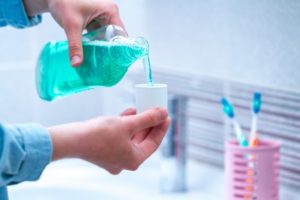 You originally had a dental checkup scheduled in March, but the COVID-19 pandemic caused dentists all over the country to reschedule elective appointments and only treat patients with emergencies. Recently, your dentist in Columbia called you and said that because they're open now, you could attend your checkup. When you arrived at the office, you noticed a few things were different. For one thing, a member of your dentist's team asked you to rinse with mouthwash before your appointment could begin. Why? Keep reading to find out.
Why Is Your Dentist Asking You to Rinse?
When your dentist uses certain instruments, it produces particles called dental aerosols. Dental aerosols contain particles from your mouth, like blood, saliva, and even germs that you might be unknowingly carrying. Once they have left your mouth, they can remain in the air for a few seconds up to several hours, long enough to be inhaled or settle on surfaces in the operatory. From there, germs in the aerosols could infect members of your dentist's team or patients who come in after you. If you happen to be carrying the coronavirus, that could spell disaster.
Mouthwashes have been proven to be quite effective at eliminating the germs that result in bad breath, gum disease, and tooth decay. Although many of them have not been tested against the specific pathogens that cause COVID-19, it can't hurt to kill as many germs in your mouth as possible by having you rinse before your appointment.
How Else Is Your Dentist Keeping Their Office Germ-Free?
In addition to reducing the number of germs in the office by having patients rinse their mouths out, your dentist is implementing several other safety precautions to keep you safe from COVID-19. Some of these measures include:
Evaluating the health of all staff members daily and sending them home if their health isn't up to par
Pre-screening every patient's health and taking their temperature with a no-touch thermometer upon arrival
Changing into and out of work clothes at the office to avoid bringing outside germs into the practice
Not seeing as many patients in a day to allow more time for office disinfection between patients
Offering some consultations and follow-up appointments online or over the phone
Asking patients to use hand sanitizer when they arrive
Removing magazines, toys, and other activities that people frequently touch from the waiting room
Asking patients to swish with mouthwash before their appointments begin is just one of many measures your dentist is taking to keep you safe while you're under their care. Rest assured that you should be able to get the dental treatment you need without worrying about infection.
About the Author
Dr. Philip Batson is a dentist in Columbia, MO who is a graduate of the University of Missouri-Kansas City School of Dentistry. He currently serves as a board member and the immediate past president of the Missouri Academy of General Dentistry. His team takes all of the safety precautions listed above, including asking patients to rinse before treatment. To learn more about how he'll keep you safe during your appointment, visit his website or call (573) 875-7071.