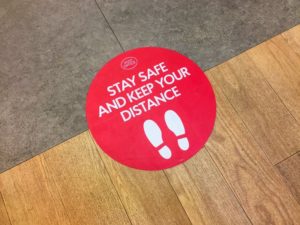 Ever since social distancing guidelines were first introduced a couple of months ago, you've been following them diligently. You have family members who are high-risk for COVID-19, so you want to do your part to avoid spreading the virus to them. One day your dentist in Columbia calls you, letting you know it's time for your biannual checkup. You start to wonder: is it safe? Absolutely! Dentists all over the country are taking precautionary measures to ensure their patients safety in the office, one of which is enforcing social distance. Keep reading below to learn how your dentist will use social distancing to keep you safe at your appointment.
No More Hugs or Handshakes
Under normal circumstances, your dentist and their team members would love to greet you with a handshake or even a hug. However, these are not normal circumstances, and times have changed. Instead, you'll have to come up with creative ways to say hello and goodbye to the dental team, such as using prayer hands, waving, or throwing up the "live long and prosper" hand sign.
Sequenced Patient Scheduling
Simply put, your dentist isn't seeing nearly as many patients in a day as they used to. This creates more time in between appointments for you to come and go without making physical contact with other patients. It also allows your dentist's staff to thoroughly clean the office in between appointments.
Teledentistry
The COVID-19 pandemic has brought to your dentist's attention the fact that some follow-up appointments and consultations can be done over the phone or online. That's why they have created a secure, patient portal for you to communicate with your dentist.
Spaced-Out Waiting Room
These days, there are fewer chairs in the waiting room, allowing for patients to sit farther apart from each other. Your dentist's staff has carefully measured the reception area and placed the chairs at least six feet apart from each other. In addition, the staff has removed all magazines, toys, and other activities from the waiting room. Why? People touch these items all day, causing germs to accumulate on them. This practice might make the waiting room a little less exciting, but ultimately safer.
Helpful Signs and One-Way Traffic
Plenty of signs have been placed around the office that direct you where to go before, during, and after your appointment. These signs direct traffic so that patients won't accidentally bump into each other and spread germs.
Your dentist understands that you're worried about catching COVID-19. That's why they are doing everything in their power, including practicing social distancing, to make sure you're safe while you're under their care.
About the Author
Dr. Elizabeth Abe is a dentist in Columbia, MO whose ultimate goal is to build relationships with patients based on care and trust. She has enrolled in several institutions for her continuing education, such as the Kois Center and SPEAR Education. Her practice follows social distancing guidelines as strictly as possible to ensure the safety of her patients. To learn more about how Dr. Abe will keep you safe during your appointment, visit her website or call (573) 875-7071.