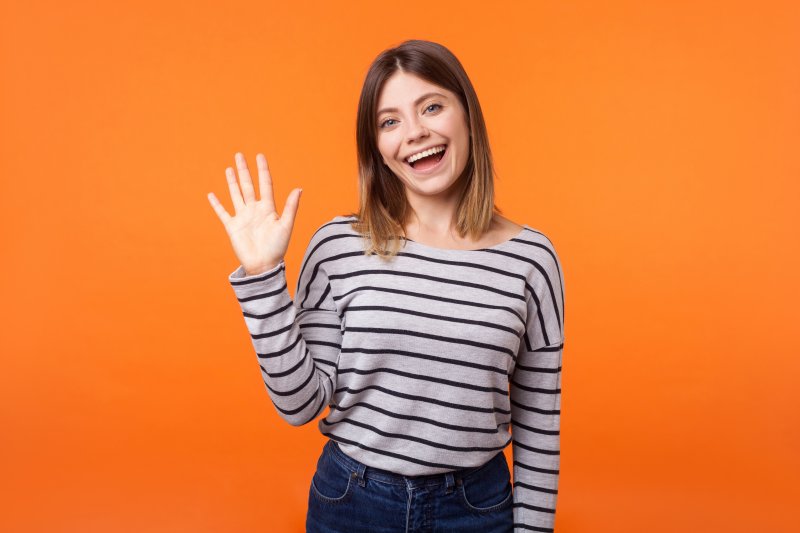 From face masks to stay-at-home mandates, the COVID-19 pandemic has transformed our world in more ways than one. Perhaps the most significant change is the introduction of social distancing guidelines to reduce the transmission of this potentially fatal virus. While implementing the 6-foot distance is more natural for some, the Centers for Disease Control and Prevention continue to reinforce the importance of implementing this guideline. In fact, they believe that social distancing measures have prevented up to 185,000 deaths! With this in mind, your dentist in Columbia will be opting for no-contact greetings at your visit during COVID-19. If you are looking for a creative one of your own, then keep reading!
The Classic Smile and Wave
When thinking of unique greetings, the classic smile and wave may not be the first thing you think of. However, there is nothing as unique as your beautiful smile! Plus, your dental team's passion is providing you with a strong, healthy beautiful smile that makes you confidently flash it at every opportunity. So, this is the perfect pandemic-friendly greeting that will make their day!
The Famous "Live Long and Prosper" Salute
When the Live Long and Prosper salute debuted on the much-loved Star Trek franchise, it quickly became a phenomenon. Five decades later, it serves as the perfect social distancing friendly greeting that shows off your personality without breaching the 6-foot distance guidelines.
The Friendly Peace Sign
When people think of the 60s, they often remember flower power, long hair, and the peace sign. Today, the peace sign is one of the most recognized gestures across the world and continues to stand for positive vibes and harmony. During the current pandemic, it is the perfect way to say hello while also keeping your distance.
The Respectable Bow
For centuries, people around the world have shown their respect by humbly bowing when saying hello. In fact, the depth of the bow communicates the level of admiration you have for the other person. So, if you want to show your appreciation for your dental team without compromising your safety, opt for a respectable bow! (If it seems too formal, you can simply bow your head instead).
The Fun Air High-Five
Pre-COVID-19, a cavity-free visit may have been celebrated with a quick high-five. However, the Centers for Disease Control and Prevention strongly advise against coming in contact with others to limit the potential transmission of this novel virus. Fortunately, you can opt for an air high-five when commemorating a milestone!
Although keeping a 6-foot distance while saying hello may initially seem awkward, it is a small measure we can take to flatten the curve and reduce the spread. Therefore, opt for one of the above social distancing-friendly greetings to say hello without compromising your safety!
About the Practice
At Columbia Healthy Smiles, each member of their team is united by their mission to deliver world-class dental care that is built on personalized attention and genuine relationships. Backed by their hand-selected staff, Dr. Philip Batson and Dr. Elizabeth Abe use their array of high-quality dental services to provide their patients in Columbia with strong, healthy teeth and gums. If you would like to speak with their team about how they are using their expertise to keep their patients safe during COVID-19, please visit their website or give them a call at 573-875-7071.