Teeth Whitening – Columbia, MO
Creating Brighter Grins
Stained and discolored teeth can get between you and an attractive smile. Fortunately, Columbia Healthy Smiles has the solution with three different KoR teeth whitening systems. No matter which system you choose, you can be certain that your smile will be noticeably whiter and brighter. Contact our dental office to schedule a consultation with Dr. Batson or Dr. Abe to disucss options for professional teeth whitening in Columbia, MO.
Why Choose Columbia Healthy Smiles for Teeth Whitening?
Kor Take-Home Kits
Reliable, In-House Treatments
Homey, Comfortable Dental Office
Reasons for Teeth Stains and Discoloration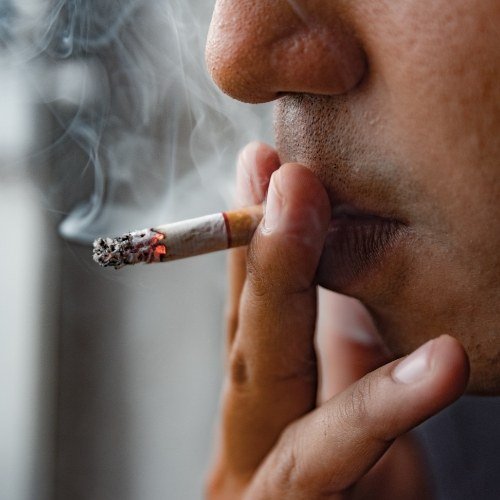 Teeth are primarily white because the outer layer of enamel is mostly made of calcium, a naturally white mineral. Below this layer of translucent enamel, however, is dentin. As people age and the enamel on their teeth begins to thin, the darker and slightly yellow color of dentin begins to be visible.
In addition, teeth can become stained from the foods and beverages you enjoy every day. Your morning cup of coffee or tea may give you that caffeine boost you need, but it also gives your teeth a shot of the tannins and acids that can cause staining. Other things that stain are red wine, grape juice, chocolate, and tomato sauce. In addition, nicotine in smoking and chewing tobacco can also cause deep yellow and brown stains.
All of these types of stains are extrinsic because they remain on the outer surface of your teeth. Intrinsic stains or discoloration happen below the enamel layer in the dentin and can be caused by:
Excessive fluoride use during childhood
The antibiotic tetracycline if prescribed during tooth development
An injury that leads to bleeding inside the tooth structure
Teeth Whitening with
KöR

Take-Home Kits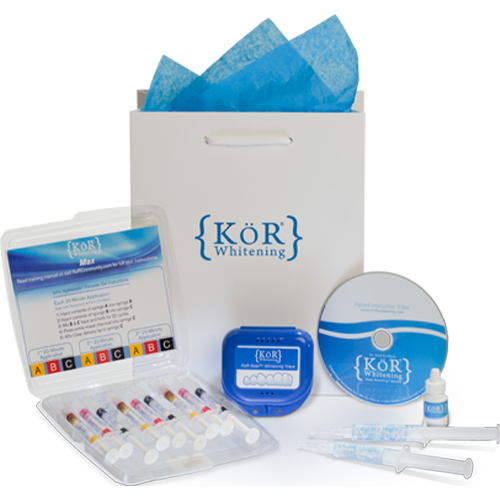 For your convenience, cosmetic dentists Dr. Batson and Dr. Abe at Columbia Healthy Smiles offer three KöR teeth whitening systems. KöR is our in-office teeth whitening system. With this treatment, the gel is applied to your teeth. The solution contains a bleaching product as well as potassium nitrate and fluoride to reduce tooth sensitivity and maintain your teeth's healthy enamel layer. The safe combination of active ingredients gently whitens your teeth in about one hour. Both extrinsic and intrinsic stains are lifted from your teeth.
The second KöR system is a take-home treatment. We'll give you custom-fitted mouth trays that you'll fill with the KöR home formula. Wear the trays for 30 minutes to an hour every day for two weeks. The results happen gradually but are just as dramatic as the KöR in-office whitening treatment. In addition, the take-home system is great for touch-ups after you've whitened your teeth in the dental office.
Finally, we offer KöR whitening strips for when you need to bleach your teeth on the go. These do an excellent job of removing surface stains and are easy for traveling.