SureSmile Clear Aligners – Columbia, MO
Get a Straighter Smile Without Braces
A smile with perfectly aligned teeth has been something to admire for a long, long time. How long? Archaeologists have found mummified remains with evidence of rudimentary braces wrapped around individual teeth. Fortunately, orthodontics has advanced tremendously. Today, you can practically hide the fact that you're wearing braces. SureSmile is an orthodontic system that moves your teeth into alignment with clear, plastic mouth trays that fit snuggly over your teeth. With SureSmile clear aligners in Columbia, MO from the dental team at Columbia Healthy Smiles, you can have a well-aligned smile minus the hassle of traditional metal braces.
Dr. Batson is a certified provider of SureSmile, so you can be sure the outcome of your treatment will be a beautiful and natural-looking smile. Your orthodontic treatment begins in our dental office, and the entire process happens right here. You never have to bother with seeing another dental professional to achieve the straight smile you've always wanted.
Why Choose Columbia Healthy Smiles for SureSmile Clear Aligners?
Expertly Customized Clear Aligners
Dental Team Members Who Cares About Relationships
Homey, Comfortable Dental Office
The Benefits of SureSmile Clear Aligners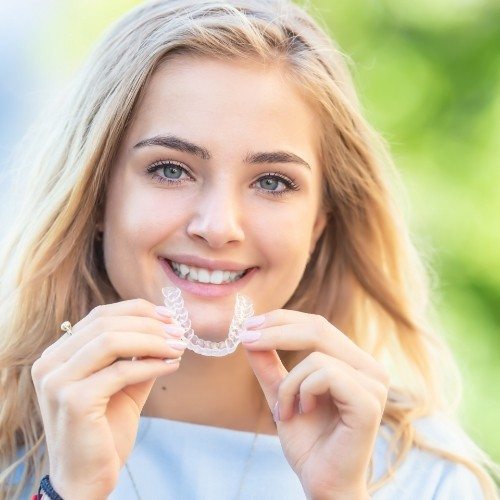 In addition to being barely noticeable, SureSmile clear braces offer other advantages over braces that use metal brackets and wires. First, you'll be able to remove your clear braces. (Try doing that with brackets and wires that are adhesively bonded to your teeth)! This means that when it's time to have breakfast, lunch, dinner, or a snack, you simply take out the SureSmile aligners and enjoy all your favorite foods. With traditional braces, some foods—popcorn, pretzels, chewy candy, carrot sticks—are off-limits because they can break a bracket or dislodge a wire.
And being able to remove your braces means that you'll also be able to brush and floss your teeth more easily. When brackets and wires are in the way, oral hygiene is more difficult and more time-consuming; this can lead to an increased risk of tooth decay or gum disease developing during orthodontic treatment.
Getting SureSmile in Columbia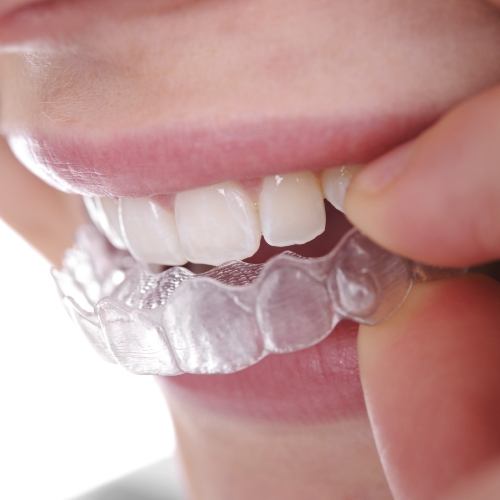 The SureSmile treatment process begins when you meet with Dr. Batson or Dr. Abe to determine if you are a qualified candidate for SureSmile. If the answer to that question is yes, then you are only 12 to 24 months away from having a straight smile.
We'll take a series of X-rays, photographs, and impressions that form the basis of your personalized treatment plan. The SureSmile lab then creates a digital representation that shows how your teeth will move into alignment step-by-step. From this, your aligners are fabricated.
SureSmile braces are arranged in a sequential series. We'll dispense several pairs to you at one time. All you have to do is wear each pair for two weeks and then move on to the next. Dr. Batson and Dr. Abe will need to see you for regular progress checks, but there's never a need to adjust or tighten your aligners as there is with traditional braces.
Contact Columbia Healthy Smiles today to schedule an SureSmile consultation with Dr. Batson and Dr. Abe to learn more about improving your smile!