Meet Our Dental Team – Columbia, MO
Compassionate & Caring Dentistry You Deserve
Our dental team at Columbia Healthy Smiles is one of a kind. Consisting of administrative staff, dental assistants, dental hygienists, and dental patient care coordinators, we never leave our dental patients feeling unsure, nervous, or lost when it comes to their oral health. Children, teens, adults, and seniors will receive the care and attention they deserve the moment they walk through our doors, and we'll remain nearby to answer any questions and provide clear instructions to ensure a swift, successful, and stress-free visit. Get to know us a bit better by reading our bios below.
Macqueleigh, Dental Patient Care Coordinator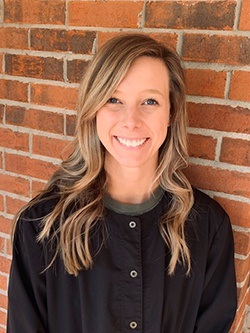 Macqueleigh is originally from New Bloomfield, MO, and she's been working in the dental world for more than seven years now. The best part about her job is being able to meet new people and help them enjoy their smiles again. She studied at the State Technical College of Missouri. Today, she has expanded functions certifications in orthodontics as well as fixed/removeable prosthodontics.
Macqueleigh and her husband, James, have three young children together: Cade, Collyns, and Chesney. Outside of working hours, you can typically find her camping on the Osage River, spending time with her kids, or shopping with her mom.
MacKenzie, Dental Patient Care Coordinator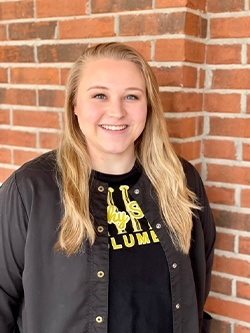 MacKenzie has been on our team for three years and counting, and she loves being able to help patients overcome dental anxiety and genuinely enjoy their visits! She had a wonderful experience growing up as a patient at Columbia Healthy Smiles and wants to extend that positivity to future patients. She completed her Health Science Associates degree at Moberly Area Community College, followed by her dental assisting certificate at the State Technical College of Missouri. Additionally, she is trained in nitrous oxide administration, CPR, and expanded functions.
MacKenzie lives with her cat Rambo. She loves to spend her free time outside, particularly hiking and camping, as well as lifting weights. She also enjoys crafting items like earrings and candles. Here's a fun fact about MacKenzie: her current record for solving a Rubik's cube is two minutes!
Cybill, Dental Hygienist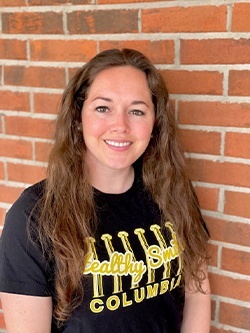 Originally from Sedalia, MO, Cybill has over a decade of experience in the dental field so far. She completed her dental hygiene training at State Fair Community College and is dedicated to improving her skills through yearly continuing education courses. Her favorite part of her job is building trusting relationships with patients and educating them so that they can work together to achieve their healthiest smiles possible.
Cybill has a very loving, close-knit family. Outside of the dental office, you can usually find her spending time with her husband and two sons, watching her boys' activities, reading, or traveling.
Jennifer, Dental Hygienist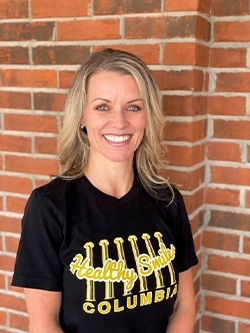 For well over two decades now, Jennifer has spent her days helping patients achieve and maintain healthier smiles, as well as develop genuine, lasting relationships with patients. She finds it incredibly rewarding. She attended St. Louis Community College – Forest Park before earning certifications in CPR and nitrous oxide monitoring.
Originally from St. Louis, Jennifer is married and has three children. She loves reading, watching her kids play sports, and being active – she has actually run two full marathons! Additionally, she is active in her church and passionately supports the Congenital Heart Foundation.
Sarah, Dental Hygienist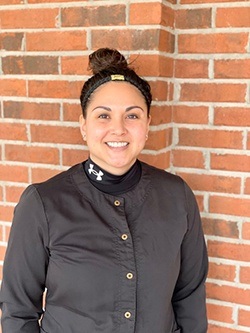 Sarah says that one of the best parts about working in dentistry is the instant gratification. A patient's teeth immediately look and feel better after a cleaning, and it takes almost no time to educate someone on how to take better care of their smile back home. She attended Missouri Southern State University and has degrees in both dental hygiene and health science.
Sarah has a spouse, young son, and two dogs waiting for her at home. She likes taking trips back to Wisconsin to see her family, and she is always happy to do anything that involves being outdoors. She strives to frequently try new things and make memories with the people who mean the most to her.
Shelby, Dental Assistant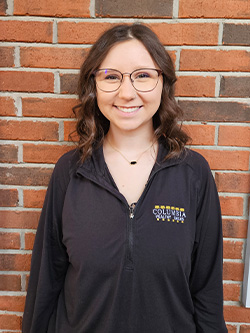 A native of Fulton, MO, Shelby completed her studies at the State Technical College of Missouri before joining our team in 2021. In addition to being an Expanded Functions Dental Assistant, she has undergone additional training in nitrous oxide. When asked about her favorite part of her job, she shared that it is the amount of teamwork, laughter, and teaching that she gets to experience each and every day!
Shelby comes from a big, loving family that is constantly growing. She has three siblings, two nieces, one nephew, and counting! They're all very close and regularly have Sunday dinners together. In her free time, Shelby enjoys playing with her Goldendoodle puppy, Bentley, and her roommate's Corgi, Taj, shopping with friends, and relaxing.
Taylor, Dental Assistant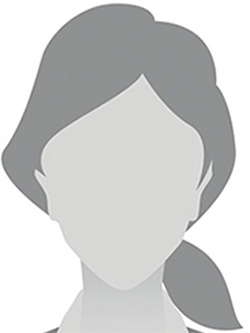 Raised in Owensville, MO, Taylor graduated from Owensville High School and began her career as a dental assistant by studying at the University of Missouri–Columbia with a bachelor's degree in Health Science. Her favorite thing about her job is having the opportunity to interact and build strong relationships with each patient on their journey to better oral health.
Outside of the office, Taylor loves spending time with her parents and siblings. Other than visiting her family on the weekends, she also likes hanging out with her friends and roommates, playing sand volleyball, and spoiling her two cats, Dasher and Baby.