Veneers – Columbia, MO
Full Smile Transformations in Just Two Visits
When you look in the mirror, do you see a beautiful smile you're proud to share, or do you see chips, cracks, and stains you want to hide? Don't let a flawed smile prevent you from feeling 100% confident during every professional or social interaction. At Columbia Healthy Smiles, we offer dental patients a wide range of cosmetic dentistry services to meet any need. Veneers from our Columbia, MO cosmetic dentist are one of the most popular cosmetic dentistry options. These thin sheaths of dental-grade porcelain can be affixed to the front-facing surfaces of teeth to create a flawless smile with just one, simple treatment. If you'd like to find out more about the porcelain veneer process, call our Columbia cosmetic dentist and dental team to schedule an appointment today.
Why Choose Columbia Healthy Smiles for Veneers?
Highly Durable, Lifelike Materials
Experienced Husband-and-Wife Team
Team That Focuses on Long-Term Dental Care
When Should I Consider Veneers?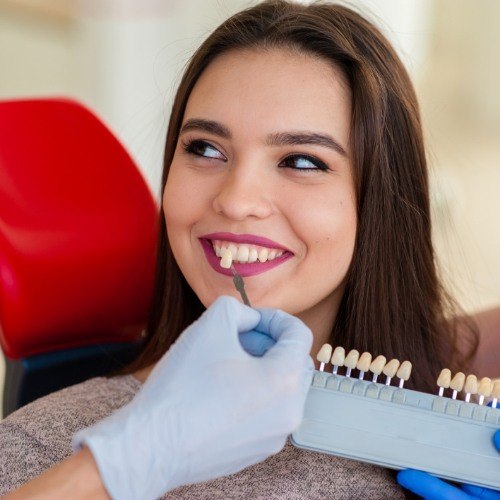 Each patient is different, and porcelain veneers are not the right option for everyone. Before we recommend this cosmetic solution, you'll need to visit our dental office for a consultation. We'll examine your smile and help you determine whether or not veneers are your best cosmetic dentistry option. At the consultation, we also determine how many teeth need veneers and whether to treat the top, bottom, or both arches. Some of the many cosmetic flaws we can transform with porcelain veneers include:
Chipped teeth
Small, surface-level dental cracks
Deep-set staining that does not respond to teeth whitening
Uneven spacing between teeth
Crooked or overlapping teeth that are not negatively affecting the way the bite fits together
What is the Veneers Process Like?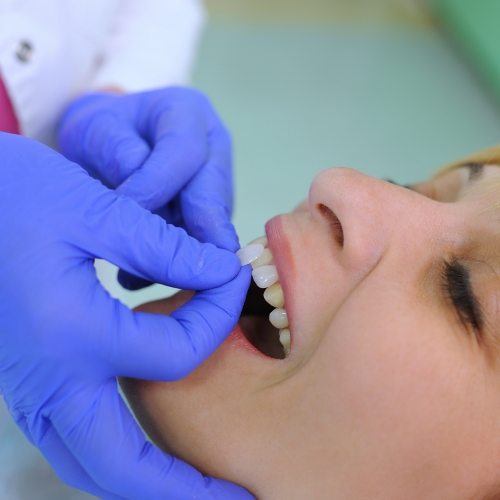 Patients who choose porcelain veneers will need to visit Columbia Healthy Smiles for two treatment appointments. During the first visit, we numb the area around the teeth. Then, we remove a tiny amount of surface enamel. This allows the porcelain veneers to lay flat on top of the teeth, blending flawlessly into the natural smile line. A series of bite impressions are captured, and we use these impressions to design your custom veneers. Diagnostic X-rays, bite impressions, and our designs are all sent to a trusted dental lab where your porcelain veneers will be crafted. To protect the prepared teeth, temporary veneers are placed. You'll return for the second appointment after we receive the custom restorations from our lab. As long as you're happy with the look and feel of your veneers, this second visit is very short. In rare cases, we'll need to make adjustments to the design and send the veneers back to the lab. However, most patients leave following their second appointment with flawless smiles.
How Do I Care for My Veneers?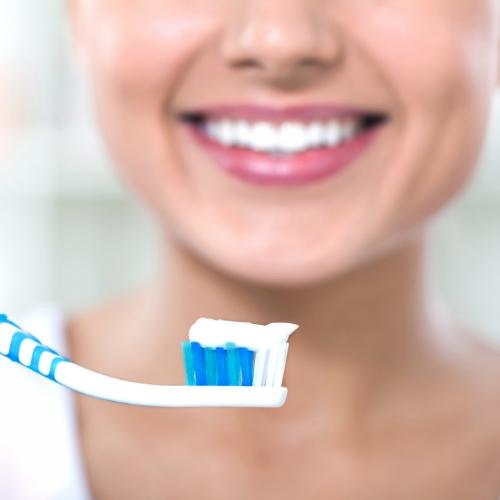 For the most part, you'll continue to care for your teeth in the same way. You'll need to brush your teeth twice a day, floss daily, and visit our dental office at least twice each year. We do recommend choosing an extra soft toothbrush and non-abrasive toothpaste. This ensures the longevity of your veneers. One benefit patients with veneers can look forward to is that the high-quality porcelain is stain-resistant, so you'll have a flawless, bright smile for years.