CEREC Same-Day Crowns – Columbia, MO
High-Quality Dental Crowns with No Wait
With life's busy schedule, it can be hard to find time to visit the dentist to restore a damaged or decayed tooth. Until recently, getting a new dental crown typically required not one, but TWO trips to a dental office. Fortunately, those days are now in the past thanks to CEREC same-day dental crown techology!
At Columbia Healthy Smiles, Dr. Batson and Dr. Abe use the latest computer-aided design and manufacturing (CAD/CAM) technology to craft high-quality dental crowns on the spot. In just a fraction of the time it would take to get a traditional dental crown, you can walk out of our doors with a rejuvenated smile! If you have a tooth that needs some attention but have limited time to spare, you could likely benefit from CEREC same-day dental crowns in Columbia, MO, so contact our dental office.
Why Choose Columbia Healthy Smiles for CEREC Same-Day Dental Crowns?
Long-Lasting, Reliable Materials
Experienced Husband-and-Wife Dental Team
Focused on Long-Term Relationships with Dental Patients
What Is a CEREC Same-Day Dental Crown?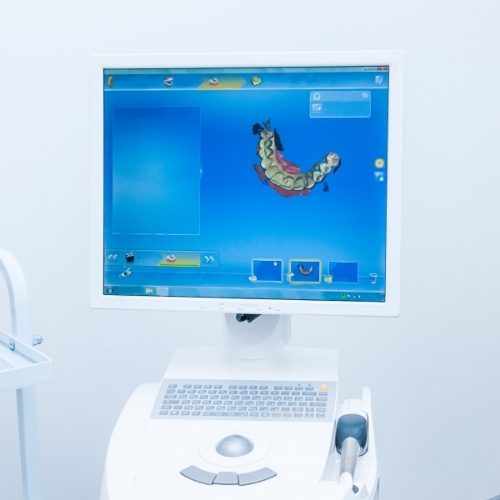 CEREC stands for Chairside Economical Restoration of Esthetic Ceramic. Instead of making an impression of your tooth and sending it off to a dental lab to be created, CEREC technology brings the dental lab in-house! Using cutting-edge CAD/CAM – or "computer-aided design" and "computer-aided manufacturing" – software, a CEREC same-day dental crown can be milled out of a solid ceramic block right here in our dental office while you wait.
Just like traditional dental restorations, CEREC crowns can address all of the following issues:
Broken, cracked, or fractured teeth
Misshapen or undersized teeth
Discolored teeth
Teeth that have undergone root canal therapy
Teeth with large dental fillings, which can weaken the teeth walls
The CEREC Same-Day Dental Crown Procedure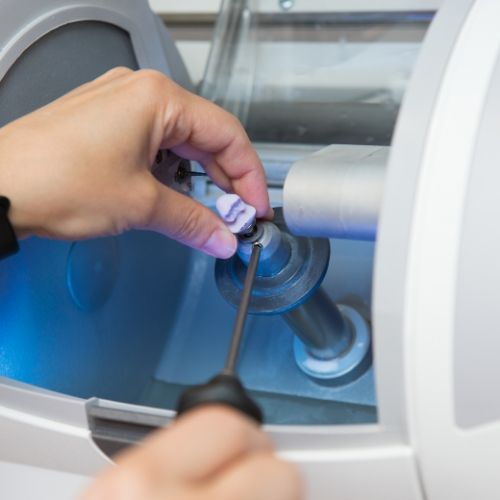 Getting a CEREC crown manufactured and placed at Columbia Healthy Smiles is quick and easy. First, our dentists will prepare your tooth by gently filing it down to make room for the restoration.
Instead of the messy putty-like material used to make impressions for a traditional crown, a tiny digital camera will take highly accurate 3D images of your tooth. Dr. Batson and Dr. Abe will use this data and the CEREC software to make an accurate virtual model of your tooth and restoration.
Next, an in-office milling machine will carve a custom crown based on the virtual model from a single block of ceramic. This part of the process typically takes about an hour.
Once the crown is ready, our dentists will securely attach it to your tooth and then send you on your way.
What Are the Benefits of CEREC Same-Day Dental Crowns?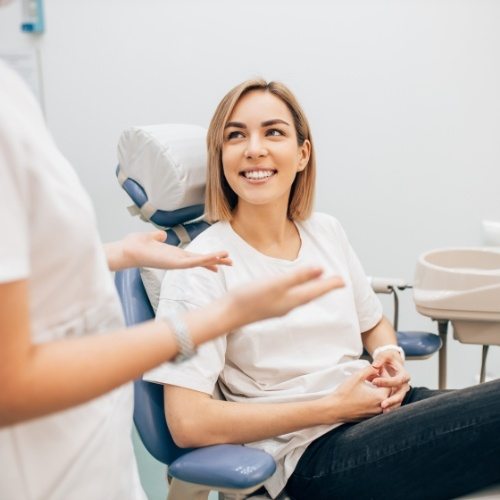 CEREC crowns in Columbia offer many benefits compared to traditional restorations, such as:
Fast Results – The entire CEREC process only requires one appointment that lasts between one to two hours.
No Mess – CEREC's digital camera eliminates the need to take messy impressions with a putty-like material.
Skip a Step – You will not have to wear a temporary crown for a week or longer while you wait for a dental lab to create your restoration.
Natural Appearance – Your crown will be custom-designed to blend in seamlessly with your existing smile.
Long-Lasting – With proper care and biannual visits to a dentist in Columbia, CEREC crowns can last 10 to 15 years, or longer.