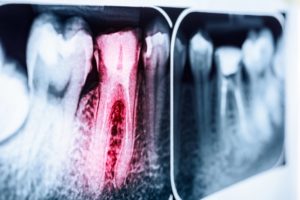 Do you have a severe toothache that won't go away despite brushing and flossing? Like most people, you're deathly scared of the idea of seeing your dentist in Columbia for a root canal because everyone always talks about how painful they are. Unfortunately, root canal therapy is commonly misconceived as a treatment that causes pain instead of relieves it. Not only can this procedure ease your discomfort, but it can also be the one thing that saves your tooth. Read on for ways you can spot whether or not your tooth is infected and how root canal therapy can help.
Symptoms That May Mean You Need a Root Canal
One of the most common symptoms that indicates you could need root canal therapy in Columbia is a severe toothache. Your discomfort can range from mild to severe throughout the day or may primarily hurt only when you bite down or consume hot or cold items. If you notice that your gums are tender or swollen near the area of your toothache, this could also be a sign of infection.
If you notice any of these symptoms, be sure to contact your dentist immediately and explain what you're experiencing over the phone. They may be able to fit you in for an appointment that same day if you need urgent care, depending on your pain level. In the meantime, place an icepack on the outside of your cheek to help reduce swelling and soothe your pain.
The Root Canal Process
When you visit your dentist, they'll inspect your affected tooth and take X-rays to determine if it's infected. If it is, and your tooth is still save-able, they may recommend a root canal to repair its strength and function.
Your dentist will access the inner portion of your tooth that contains all the nerves, which may be causing your discomfort. They'll remove this portion and sanitize your tooth. They'll then fill it and place a crown on top to restore its look and protect it from further damage.
Root Canals Can Help Your Oral Health
Even though root canal therapy has a bad reputation, it can actually save you from experiencing more pain down the road. In fact, with the latest technological advancements in the dental field, it's a virtually pain-free procedure that is efficient and cost-effective. You'll be able to maintain a beautiful-looking and feeling smile and won't have to suffer from tooth loss.
Instead of feeling scared when your dentist says you need a root canal, take the time to debunk some of the common misconceptions and learn how it can save and restore your smile. You won't regret saving your tooth and you'll feel massively relieved when you won't have to deal with the pain of an infected tooth anymore!
About the Author
Dr. Philip Batson takes pride in carrying on his family's tradition of providing patients with the high-quality and reliable dental care they can trust. His goal is to improve each of his patients' oral health by giving them the individualized treatment they need. He offers both cosmetic and preventive services so his patients can get all the services they need under the same roof. For questions or to schedule an appointment, visit Columbia Healthy Smiles' website or contact 573-875-7071.