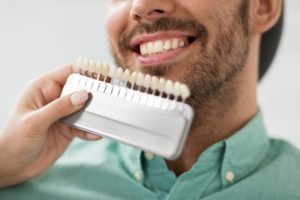 Have cracked or stained teeth lead you to start smiling with your mouth closed? Every picture taken of you is now a cause of concern, as you anxiously check to make sure your teeth aren't showing. You're nervous to eat in public and have even started speaking less. Luckily for you, there is an easy way to fix these imperfections and bring your confidence back. In this post, your dentist will explain how porcelain veneers in Columbia can revitalize your smile
What Can Porcelain Veneers Fix?
Porcelain veneers are able to change the color, shape, size and length of your teeth. They are used to address a variety of minor dental imperfections, including:
Chipped or cracked teeth
Deep-set stains that don't respond to whitening
General tooth wear
Damaged tooth enamel
Unevenly spaced or overlapping teeth
Teeth that are different lengths
Crooked teeth or misshaped teeth
What Exactly are Porcelain Veneers?
Porcelain veneers are custom, wafer-thin shells that are attached to the front of your teeth with a special cement. They are trimmed and colored to blend in with your natural teeth. Porcelain veneers are stain-resistant and generally react well with your gum tissue. If cared for properly, they can last from 7 to 15 years before needing to be replaced.
It is important to note that unlike other cosmetic procedures, dental veneers are irreversible. However, they offer a permanent way to restore or transform your smile. They provide immediate results that might otherwise take months or years with traditional orthodontics. Veneers are also a more conservative approach to changing a tooth's appearance, as they does not require the extensive shaping that crowns would.
How Do I Care for Porcelain Veneers?
No special care is required for porcelain veneers. A strong oral hygiene routine, with daily brushing and flossing, should be enough to keep your veneers healthy.
To prevent your veneers from being damaged or dislodged, avoid biting your nails. Do not chew on pencils, ice or other hard objects. Never use your teeth to open packaging and avoid putting other types of excessive pressure on your teeth. If you have a tendency to grind your teeth, consider wearing a mouthguard at night to protect your veneers from cracks and chips.
A flawed smile can negatively affect both your professional and personal life. Porcelain veneers offer a quick and natural-looking way to reclaim your confidence and quality of life. If you're ready to bring back your healthy smile, reach out to your dentist today.
About the Author
At Columbia Healthy Smiles, Dr. Batson is committed to helping his patients enjoy happy and healthy smiles. A native of Columbia, he is excited to serve his community with the Healthy Smiles team. Dr. Batson currently serves as the President of the Missouri Academy of General Dentistry. If you have any further questions about cosmetic procedures, he can be reached through his website or at 573-875-7071.