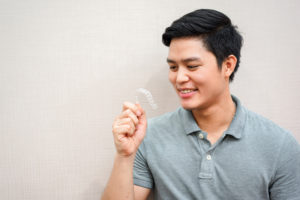 Do you feel like you missed out on your chance to have a straighter smile? Now that you're an adult, you can't sacrifice your professional image to get traditional metal braces. Luckily, Invisalign in Columbia is a modern orthodontic treatment that doesn't ruin your aesthetic. Braces have a cumbersome look and feel that you can't ignore, but Invisalign aligners are smooth and practically unnoticeable. Before you decide that this is the solution for you, read on for 5 Invisalign truths.
Yes, You Need to Wear Your Aligners Often
Like every other orthodontic solution, in order for your treatment to be effective, you'll need to wear your aligners for 22 hours each day. That means that you'll need to eat meals and snacks quickly, and be sure you remember to put them back in when you're finished.
Invisalign Isn't Always The Right Treatment For Everyone
The best way to find out if Invisalign treatment can improve your smile and is the right choice for you is to visit your dentist in Columbia for a consultation. Aligners can treat a wide variety of orthodontic issues like crooked teeth, underbite, crossbite, and overbite, but for more complex and severe situations, metal braces could be the better option.
Get Ready To Tote a Travel Toothbrush Around
Going through orthodontic treatments can sometimes seem like a hassle, especially because you may have to be more thorough when it comes to your oral hygiene routine. With traditional metal braces, you have to painstakingly maneuver around all the wires and brackets, which could increase your risk of developing oral health problems.
With Invisalign treatment, you just have to remember to brush your teeth regularly, which is why you'll need to carry a travel toothbrush with you. It's important to clean your mouth after each time you remove your aligners to eat, which can mean you'll be brushing your teeth at least 21 times a week if you eat three times each day.
A Virtually Painless Solution
Metal in your mouth can irritate your gums and oral tissues, meaning you'll need to regularly apply orthodontic wax just to feel comfortable. Your Invisalign aligners are made from a clear, smooth, FDA-approved plastic which is gentle on your gums and won't damage your oral tissue. The only time you may experience slight discomfort is when you switch to your new series of aligners. After about three days, your mouth will get used to them though.
Your Mouth May Need Time To Adjust
When you first introduce your mouth to your aligners, it may take a little bit to adjust speaking with them in. If you're experiencing a lisp, practice speaking and reading aloud with them in to help get it to go away. After a short adjustment period, you'll find yourself speaking like normal again.
Invisalign is a great orthodontic procedure for patients who don't want to heavily impact their appearance and day-to-day life while undergoing treatment. To find out if it can benefit your unique smile, schedule a consultation with your dentist today!
About the Author
Dr. Philip Batson enjoys providing his community with high-quality dental care. To him, dentistry isn't just a profession, but a family tradition that was started by his father over four decades ago. He is passionate about boosting his patients' self-confidence and oral health, which is why he offers comprehensive care including a variety of cosmetic services such as Invisalign. For questions or to schedule a consultation, visit Columbia Healthy Smiles' website or contact 573-875-7071.