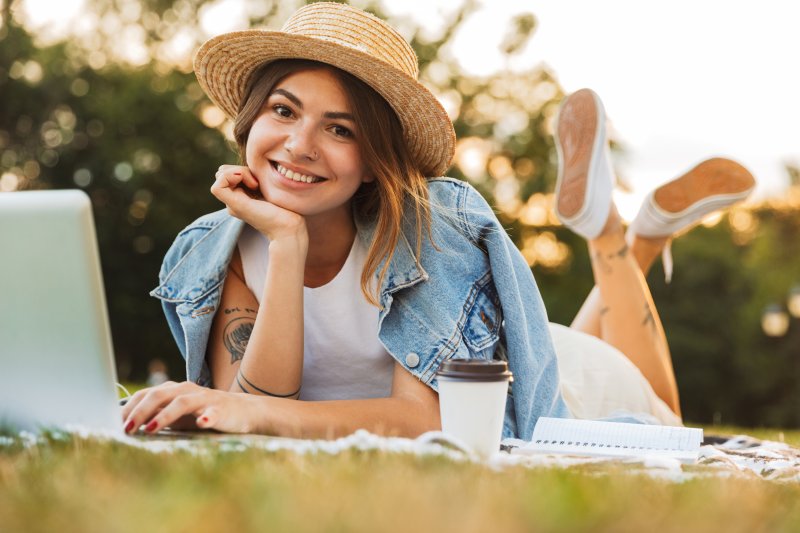 Last summer, vacations were postponed, weddings were pushing off, and family get-togethers were canceled as the novel COVID-19 virus continued to spread. Fortunately, this summer looks much different! Whether you are planning on traveling abroad or spending your days on the Gustin Golf Course, the last thing you want is for your summertime activities to result in fall cavities. To prevent that from happening, keep reading for four summer oral health tips to keep in mind this season!
#1. Drink Plenty of Water
When the temperature heats up, it can be tempting to cool off with an ice-cold glass of soda. However, indulging too much in this sugary-sweet beverage can result in dental discoloration and tooth decay come fall. Therefore, it's a good idea to stick with water throughout the day. To spice it up, you can add a zero-sugar water flavoring to your glass – just make sure to use a straw to keep your teeth nice and white!
#2. Fill Up on Vitamin-Rich Foods
Summer barbeques are one of the many summertime activities that revolve around food. While it may be tempting to pile your plate high with caramel popcorn, chips and dip, and sticky barbeque sliders, it's important to throw in some vitamin-rich foods as well. Corn on the cob, cooked artichokes, salad, crisp fruits, and cooked veggies are a great place to start!
#3. Maintain Your Oral Hygiene Routine
Like most, your oral hygiene routine may be the first thing to go while getting some much-deserved R&R. However, it's of the utmost importance that you continue to implement a solid at-home dental care regimen throughout the summer. With this in mind, make sure to brush after each meal (or at least twice a day), floss daily, and use mouthwash regularly.
#4. Schedule Your Six-Month Dental Checkup & Cleaning
Although it may be hard to believe, the majority of 2021 is already over! So, if you have yet to visit your dentist for your first checkup and cleaning of the year, now is the time to do so. Remember, these visits play an essential role in catching dental problems in the early stages and preventing new ones from developing in the future. If you've already visited your dentist once this year, use this as a remember to make sure your second appointment is on the books!
You deserve to enjoy your summer and all this beautiful season has to offer. Just make sure to keep the above best practices in mind to avoid dental problems come fall!
About the Practice
Columbia Healthy Smiles is a locally owned, family-operated practice that has been serving patients in Missouri for more than four decades now. Today, Dr. Philip Batson and the rest of our team are here to help new patients and long-time friends enjoy a healthy, happy, beautiful smile for life. If you'd like to learn more about preventive care or want to schedule your six-month checkup and cleaning, don't hesitate to visit our website or give us a call at 573-875-7071.