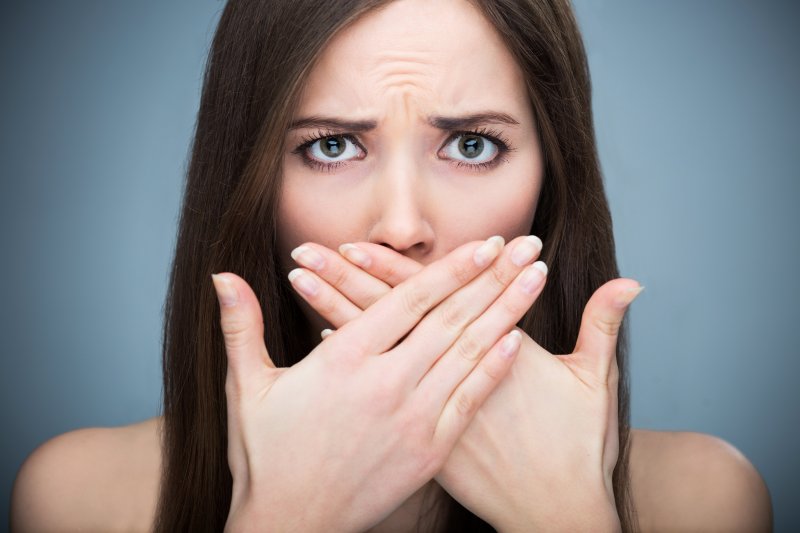 Do you frequently struggle with bad breath? It's actually a much more common problem than you may think. Believe it or not, over 80 million American suffer from chronic bad breath, also known as halitosis. Most of the time, it originates from bacteria on the tongue and gums. As common of a condition as this is, it can still be quite embarrassing. Fortunately, you don't need to put up with it. Your dentist in Columbia shares some ways that you can stop bad breath in its tracks.
Good Oral Hygiene
This may seem like an obvious one, but if you aren't brushing and flossing as often as you should be, you are leaving food debris in the mouth. This causes harmful bacteria to grow and affect the quality of your breath. Be sure that you're brushing your teeth twice and flossing at least once every single day. If you want to take an extra step, try an extra round of brushing with baking soda. This makes it much more difficult for bacteria to grow.
Use a Mouth Rinse
Mouthwashes are great at masking odors in the mouth, but they aren't a cure for bad breath. If your halitosis is caused by dry mouth, the alcohol that is in many mouthwashes could dry it out further and make your breath even worse.
Clean Your Tongue
Residue can build up on your tongue if you don't clean it regularly. Whenever you brush your teeth, use your toothbrush to gently brush your tongue as well. You could also invest in a cheap dental tool called a tongue scraper. By using this, you can carefully scrape away any debris left behind.
See Your Dentist
The best thing you can do for any dental problem is consult your dentist during your regular checkup. They will be able to rule out any serious issues related to your oral health or somewhere else in the body. A dental professional is able to give you the best possible advice for dealing with halitosis.
Drink Water
To reduce dry mouth, make sure that you are drinking six to eight cups of water every single day. This helps to rinse away food debris and the bacteria that is likely the cause of your halitosis. If you are taking medications that make your mouth especially dry, talk to your doctor and dentist about possible solutions.
Chew Gum
Having a piece of sugarless gum or candy can help to stimulate saliva flow in the mouth. This will make it easier to wash away bad breath causing bacteria that's lingering.
Have an Apple
High fiber fruits and vegetables like apples, carrots, and celery increase the saliva flow in the mouth. They also help to alleviate bad breath that's caused by hunger or fasting.
Refrain from Smoking
Smoking tobacco products is harmful for your whole body. Your smile is no exception. Smoking dries out your mouth and can leave an unpleasant smell that lingers, even after you brush your teeth. Talk to your doctor, friends, and family about the best ways that you can quit.
You don't need to put up with halitosis. By taking some of these steps and seeing your dentist regularly, you can freshen up your smile.
About the Practice
At Columbia Healthy Smiles in Columbia, MO, Dr. Philip Batson and Dr. Elizabeth Abe are focused on providing patients with quality and individualized dental care. Both dentists earned their dental doctorates from the University of Missouri-Kansas City School of Dentistry. Dr. Batson is a member of numerous organizations including the American Dental Association and the Academy of General Dentistry. For more information on halitosis or to schedule an appointment, visit their website or call (573) 875-7071.