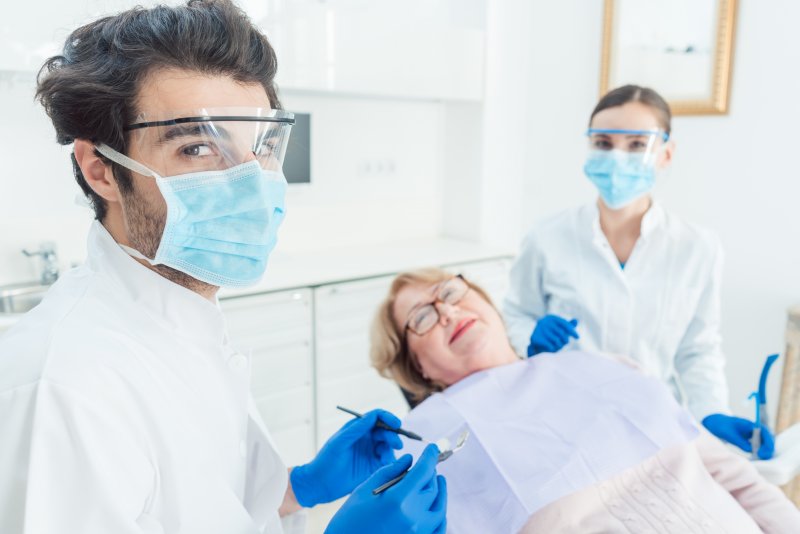 COVID-19 has shaken up so many of our lives in a strange way, but there are certain things that you shouldn't be changing. One of them is your regular dental appointments. Even though it may seem like a good idea now, missing your visit to the dentist could lead to all sorts of issues in the future. Living through a pandemic doesn't mean that you should be neglecting your oral health. Continue reading to learn more from your dentist in Columbia about why you should continue to attend your regular dental appointments.
Your Dental Visits Help Maintain Your Health
When you go to the dentist, it isn't just about keeping your smile beautiful and healthy. There's more to it than that. The mouth is the gateway to the rest of your body. Oral health issues, such as gum disease, are linked to all sorts of different issues in the body including diabetes, respiratory disease, osteoporosis, and heart disease. On top of that, if you have an infection in your mouth, your immune system will be focused on fighting it off. As powerful as your immune system is, it can only do so many things at one time, making it more likely that you will become sick.
Your Dentist Has Always Been a Safe Place
Healthcare practices, including the dental office, are required to uphold strict safety protocols on a regular basis to ensure that patients are being treated in a clean and safe environment. Here are some of the precautionary measures that your dentist has always taken to help prevent the spread of illnesses and infections:
Personal Protective Equipment: Your dentist's clinical team has always worn PPE when working in patients' mouths. This would normally include a surgical mask, disposable gloves, and anything else that your dentist deems necessary for the particular appointment.
Personal Hygiene: It's always a priority for your dental team to wash their hands frequently to reduce the likelihood of spreading illnesses between themselves and their patients.
Sanitation: The dental office is one of the cleanest places you can be. Dental instruments are always sterilized between patients using an autoclave. Surfaces throughout the practice are disinfected on a regular basis.
The Dental Office Is Even Safer Than Before
In addition to all of the safety measures taken before to protect patients, there have been even more added to limit possible spread of COVID-19 in the dental office. Here are just some of the new measures being implemented:
Advanced Staff Training: The staff has completed additional awareness training and prevention programs in order to enhance their knowledge and preparedness during the pandemic.
Daily Health Checks: When the team comes into the office, they are asked a set of questions regarding their health. Their temperature is also taken using a no-touch thermometer.
Anti-Microbial Rinse: Patients are asked to rinse using an Oracare solution to reduce bacteria in the mouth at the start of their appointment.
Sequenced Patient Scheduling: Appointments are being scheduled further apart than usual to allow more time for cleaning and prevent unnecessary contact between patients.
Patient Pre-Screening: Patients are asked to complete a health questionnaire and consent form upon arrival. They are also required to have their temperature taken using a no-touch thermometer.
Teledentistry: Certain appointments, like follow ups and some consultations can be done using the patient communication portal.
Additional PPE: In addition to gloves and masks, the clinical team will be wearing protective clothing and face shields.
Even though leaving the house can be anxiety-inducing at this time, your dentist is doing everything they can to protect their patients. This way, you can stay safe without neglecting your oral health.
About the Practice
At Columbia Healthy Smiles, Dr. Philip Batson and Dr. Elizabeth Abe are committed to treating patients in safe environment. Both dentists attended the University of Missouri-Kansas City School of Dentistry. Dr. Batson is a member of several professional organizations including the American Dental Association, Missouri Dental Association. Dr. Abe is committed to attending continuing education courses to expand her dental knowledge. The team is taking 18 additional steps to ensure that their practice is as safe as possible. For more information or to schedule an appointment, visit their website or call (573) 875-7071.