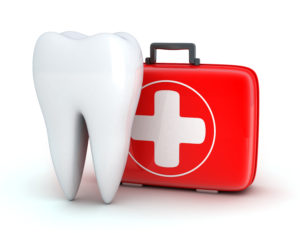 According to the American Association of Endodontists, more than five million teeth are knocked out every year. If you've suffered from a similar sudden dental injury, it's important to know what to do in between the time of the accident and reaching the dental office. Staying calm and acting quickly may just save your tooth. In this post, your emergency dentist in Columbia will explain common dental accidents and how to handle them.
Immediate action
Take these following steps immediately after suffering your dental injury. Afterwards, call your emergency dentist to schedule a same-day visit.
Knocked-out Tooth
Pick up the tooth by the crown (not the root) and carefully rinse the surface with water. Do not use soap or chemicals and do not scrub or dry the tooth. Gently place the tooth back in its socket and hold it in place with gauze or a clean washcloth. If trying to return the tooth to the socket hurts, keep the tooth in a clean container filled with cold milk or your saliva to maintain moisture. Reimplantation is possible if you receive care immediately, so do not hesitate to contact your emergency dentist.
Cracked or Chipped Tooth
Rinse your mouth with warm water to clean the area and use a cold compress to reduce any facial swelling. If the tooth now has a jagged edge that could cause further pain, a piece of gauze should be held in place over its surface. If possible, locate the missing tooth fragment and bring it with you to the dentist.
Toothache
Inspect the aching tooth and gently remove any food with floss. Rinse your mouth with warm water and apply a cold compress. If pain persists, you can use pain relivers, but make sure no medication comes directly in contact with the tooth or gum surfaces. Contact your dentist for further instructions.
Soft Tissue Injury
If the inside of your mouth has been bitten or hurt another way, press ice to the area for 5 to 10 minutes. Rinse your mouth thoroughly with a mild saltwater solution (1/2 teaspoon of salt for every 8 ounces of water). If the bleeding continues, press a damp piece of gauze against the injured area.
Injury Prevention
Dental emergencies can't be always be prevented, but there are some simple steps you can take to reduce your risk. These include:
Brush and floss your teeth daily
Use scissors — never your teeth — to open packaging
Do not eat ice, bite your nails or chew on other hard objects
Wear a mouthguard when you play sports
Visit your dentist twice a year for checkups and cleanings
Dental emergencies can be stressful experiences, but it is completely possible to walk away from them without lasting damage. Keeping these tips in mind and contacting your dentist immediately can help resolve the emergency as smoothly as possible.
About the Author
At Columbia Healthy Smiles, Dr. Batson serves his hometown with the upmost care and compassion. He currently serves as the President of the Missouri Academy of General Dentistry. If you are experiencing a dental emergency, he can be contacted through his website or at 573-875-7071.