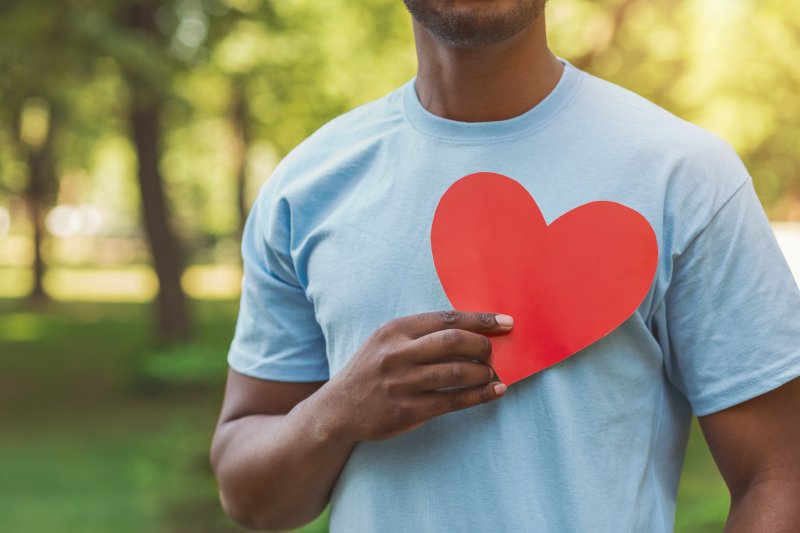 February is American Heart Month, which is when dentists and other physicians try and raise awareness about the risks of heart disease.
Cardiovascular disease is all too common, and that's due in part to the way how certain lifestyle choices increase people's risk of dealing with it. Most people understand the primary causes of heart disease, but some people may not be aware that gum disease is one of them. If you're curious about the connection between your oral health and a healthy heart, here's a little more information about what links the two.
What The Science Says…
It may sound a little strange that there's a connection between your gums and your heart, but if contemporary science is to be believed, that could very well be the case. One analysis of the data on the matter found that, on average, gum disease increases someone's chances of contracting heart disease by a stunning 20%.
Both the American Dental Association and the American Heart Association have acknowledged that there is a relationship between gum disease and heart health, meaning that it's worth considering the effect that one has on the other.
Why Does Gum Disease Lead to Heart Problems?
While the consensus is that these conditions are connected, it's not yet fully understood why. The leading theory has to do with bacteria's ability to form plaque deposits, like those on your teeth.
It's believed that gum disease bacteria from the mouth can seep into the bloodstream, forming plaque deposits in the arteries. This puts undue stress on the cardiovascular system, which can in turn worsen existing heart problems.
How to Prevent Gum Disease
Now that you know how serious gum disease can be, you probably want to avoid it as much as possible. Here's what you can do:
Brush twice a day, floss daily, and use mouthwash after every time you brush
Avoid sticky, gummy sweets that can easily get crammed into teeth
Drink lots of water—staying hydrated stimulates saliva production, which can wash unwanted food out of the mouth
See your dentist bi-annually for regular checkups and cleanings
Keep these tips in mind and you'll be able to enjoy the benefits of great dental health and a healthy heart!
About Our Practice
It can be hard to find a dentist that you can really talk to, so at Colombia Healthy Smiles, we work hard to make our practice a place that will put our patients completely at ease! We love nothing more than getting to know our patients on an individual level and ensuring that they feel comfortable and cared for through every step of the process.
If you have any questions about how oral health and heart health are connected, we can be reached at our website or by phone at (573) 875-7071.