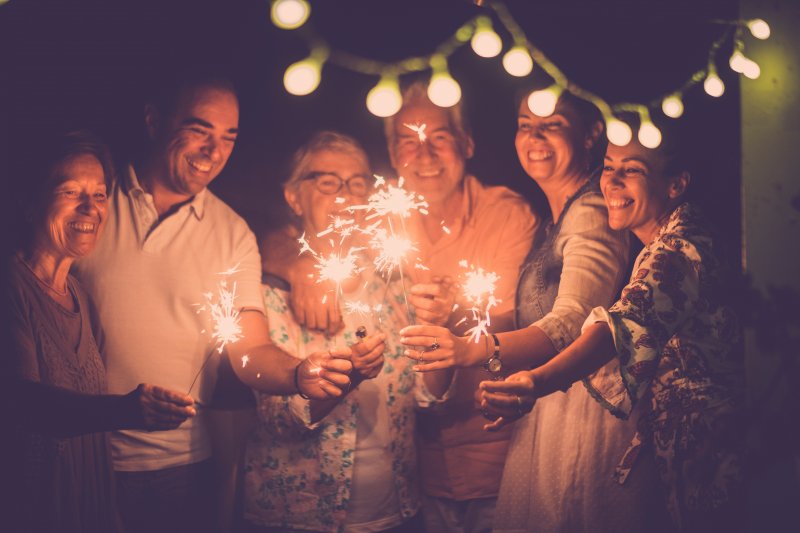 The new year is the perfect time to try to better yourself. There are quite a few ways to do that, and knowing which is best for you can be a little bit difficult. As it turns out, many of these most common new years resolutions also happen to be pretty good for your oral health, as well as benefitting you in other ways.
Here are four of the most common new year's resolutions, along with what they can do for your teeth.
Good Diet
Dieting has to be one of, if not the number one new year's resolution. While most people diet to feel better or lose weight, what you eat can also affect the quality of your teeth.
Most diets involve cutting back on sugary sweets and carbs. As it turns out, both of these foods can often coat the mouth, feeding the bacteria that live there. By eating less of them, you can reduce your risks for gum disease and tooth decay.
Drink Less Alcohol
After New Year's Eve, many people are eager to cut back on their alcohol use. Alcohol can negatively affect your oral health in many ways, including raising your chances of contracting oral cancer. Drinking can make you smile, but drinking a little less can make that smile even better.
Drink More Water
Dry winter air can pull the moisture out of your mouth, which reduces the amount of saliva you're able to produce. Normally, that saliva would be responsible for breaking down food and moving it out of the mouth, into the stomach. Without it, that food will remain in the mouth, feeding the decay-causing bacteria that live there.
There are quite a few reasons why staying hydrated is important, and not the least of them is that it will allow you to keep up a healthy level of saliva production.
Floss
The oral health benefits of this one are obvious, but flossing is one of the most common things people are missing in their oral health routine. Flossing is the absolute best way to break up the plaque deposits in between teeth that brushing cannot reach. This can do a lot to prevent gum disease and tooth decay, two of the most common oral health conditions there are.
If you're trying to improve yourself in the new year, why not also make improvements to your oral health? Keep these resolutions in mind, and you'll be able to do both!
About Our Practice
At Columbia Healthy Smiles, the last thing we want is for patients to visit us once and decide they don't want to come back. That's why, on top of incredible dental care, we want to form relationships with our patients and earn their trust. Once you see the quality of care we offer, we're sure that trust will come easily.
If you have any questions about taking care of your teeth day-to-day, we can be reached at our website or by phone at (573) 875-7071.