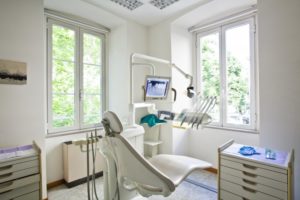 From connecting with family to getting groceries, the COVID-19 pandemic has changed many activities we previously took for granted. This includes your dental appointments, which will likely look very different than any you've had before. There have been a variety of changes made to keep you as safe as possible while getting treatment for your smile. Here's what to expect before, during, and after your first visit with your Columbia dentist when they reopen.
Before Your Appointment
Before you even arrive for your appointment, your dental team is working hard to keep you safe. Every team member has completed additional COVID-19 awareness and prevention programs as well as a daily health check. This ensures that everyone is prepared and able to safely provide the dental care you need.
During Your Appointment
When you arrive for your visit, you'll be given a quick health questionnaire and a no-touch temperature check. To reduce your exposure to other patients, your dentist has also implemented sequenced scheduling. This allows for more time for coming, going, and cleaning between appointments and more space in the reception area. You may also notice that magazines, toys, and several chairs have been removed as well to encourage social distancing and minimize frequently touched surfaces.
Before your treatment begins, you'll be asked to disinfect your hands with a hospital-grade sanitizer and rinse with an anti-microbial mouthwash. Your dentist may also be wearing personal protective equipment (PPE) that you haven't seen before, like a face shield and disposable coat. These measures are put in place to keep both you and your dentist safe from spreading germs.
After Your Appointment
If your dentist is offering extended appointments, you may have all your dental work completed in a single visit instead of over the course of several appointments. Some follow-up visits may be conducted through teledentistry as well to limit your trips outside. After you leave the office, the examination room you were in will be thoroughly cleaned before the next patient arrives. This means that disposable tools and PPE are thrown away, reusable dental instruments are sterilized with high heat and pressure, and non-movable objects are sanitized with hospital-grade disinfectants. If you begin to experience symptoms of COVID-19 like fever, dry cough, or shortness of breath within 14 days of your appointment, call your dentist as soon as possible and let them know.
While COVID-19 has changed many aspects of dentistry, it hasn't changed your Columbia dentist's dedication to your overall health. If you need to visit the office for dental care after weeks in quarantine, you can rest assure that you're walking into a clean, safe, and germ-free practice.
About the Practice
In these uncertain times, Dr. Philip Batson and Dr. Elizabeth Abe of Columbia Healthy Smiles are committed to adding peace-of-mind to the friendly, excellent dentistry you've come to expect. To accomplish this, they have added 18 additional steps to their already ambitious dental safety and infection control protocols. While they have always met the high standards of sanitation set forth by the Centers for Disease Control and Prevention, these extra precautions ensure that every visit to their office is as safe as possible. If you have any questions or concerns about receiving dental care during the COVID-19 pandemic, feel free to reach them via their website or at (573) 875-7071.