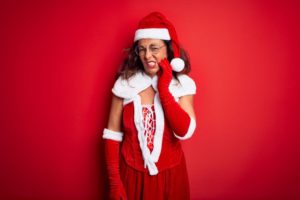 Accidents happen, even during the holiday season. Grandpa slips and drops his plate of turkey on the floor. Aunt Kathy knocks a few ornaments off the tree. Cousin Rusty sprains his ankle playing pond hockey. But do you know what to do in the case of dental emergencies? Since your emergency dentist in Columbia might be closed for the holidays, it's crucial that you know what to do. Here are some tips on how to handle common dental emergencies over the holidays.
Toothaches
Nothing ruins your holiday as quickly as a sudden toothache. First, rinse your mouth out with saltwater and use dental floss to dislodge any object that might be stuck between your teeth. If the pain persists, take an over-the-counter pain reliever as directed. Ease any swelling by applying a cold compress to the appropriate cheek.
Chipped or Broken Tooth
Maybe you chipped your tooth biting into some crunchy Christmas cookies. If that's the case, save all the pieces of the tooth that you can find. If you're bleeding, hold a piece of gauze or cloth to the area for ten minutes or until bleeding stops. Apply a cold compress to cut down on swelling and take store-bought painkillers as needed.
Knocked-Out Tooth
Playing a game of holiday football might be fun, but knocking out a tooth by getting tackled to the ground certainly isn't. If this happens, hold the tooth by the crown, or the part that you usually see in your mouth, and gently rinse it off with warm water. Do not scrub it, dry it, or remove any tissue fragments. The important thing here is to keep your tooth moist at all times. The best way to do so is by inserting your tooth back into its socket. If that's not possible, hold it in your mouth in between your cheek and gums, or in a container of saltwater or milk.
Lost Crown
Chewing sticky holiday candy can dislodge a crown easily. If this happens, save the crown. If your tooth hurts, apply some clove oil to the area with a cotton swab. It is possible to coat the inside of the crown with dental cement, sugar-free chewing gum, denture adhesive, or toothpaste, and place the crown back on the tooth. Keep in mind, though, that this is only a temporary solution, and you should see your dentist as soon as possible for a more permanent attachment.
In any case, call your emergency dentist in Columbia right away, even if they're closed. A member of their team will be checking the voicemail system and get your message and give you a call back as soon as they open after the holiday break.
About the Author
Dr. Philip Batson is a graduate of the University of Missouri-Kansas School of Dentistry. He has called Columbia, MO home for most of his life and understands the importance of being with friends and family on the holidays. However, his practice normally schedules emergency appointments the same day you call. If you find yourself with a dental emergency this holidays season, don't hesitate to contact Columbia Healthy Smiles at (573) 875-7071.