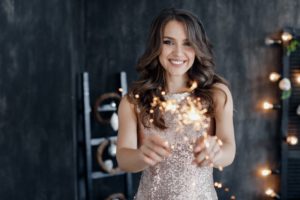 Now that it's January, have you started working on those New Year's resolutions? If one or more of your new goals or habits has to do with improving your health, you're certainly not alone. Going to the gym more, eating healthier, and cutting back on fast food are always some of the most popular resolutions around the world. This year, start your quest for better health with a trip to your dentist in Columbia! Find out why a dental checkup is the best way to get the New Year off to a great start.
Start the New Year with Great New Habits
January is the perfect time to commit to a new healthy habit, so pick up the phone or go online to schedule your biannual dental appointment. The American Dental Association and dental experts around the globe agree that everyone should regularly get a dental checkup twice a year. Even if you have an excellent dental care routine, you can still benefit from a dental exam, professional teeth cleaning, and overall recommendations on taking care of your smile. If you stick to your new habit of visiting your dentist every six months, you can enjoy the benefits of great oral health for years to come.
Spot and Stop Issues Before They Become Bigger Problems
While it may seem tempting to skip your checkup if your teeth look and feel fine, you might be surprised at what your dentist finds during an examination. They can look for the earliest signs of issues like:
Unconscious bad dental habits, like nightly teeth grinding, chewing on hard objects, or over-aggressive brushing.
Cracks and cavities that you can't feel now, but will cause you discomfort and damage if left untreated.
Infections in your soft tissues and gum disease, which is the leading cause of tooth loss in America.
Underlying systemic health conditions like diabetes, Alzheimer's disease, and leukemia, which may present their earliest symptoms in your mouth.
With early detection of these problems at your regular dental exam, you can start treatment as soon as possible and minimize any potential complications.
Keep Your Mouth Happy and Healthy All Year Long
You are more than just a set of teeth to your dentist in Columbia. They'll take the time to explain your oral health to you and teach you the best ways to keep your smile healthy. They can even help you improve your brushing and flossing techniques so that you can clean your teeth more efficiently. Regular visits allow them to keep tabs on the health of your whole mouth and make any recommendations to prevent issues down the line. Your checkups are also a great time to ask your dentist questions directly, and discuss any cosmetic options you may be considering.
So if you want to get healthier this year, start with your teeth. Getting a dental checkup every six months can help you enjoy your smile now, throughout the New Year, and for many years to come.
About the Practice
Columbia Healthy Smiles has a long-standing reputation of providing excellent oral healthcare with the help of an exceptional team of dental professionals. Dr. Philip A. Batson and Dr. Elizabeth Abe strongly believe that creating the smile you've always wanted starts with a solid foundation of preventive care, which is why they encourage their patients to get a dental checkup twice a year. If you'd like to know more, they can be contacted at their website or (573) 875-7071.