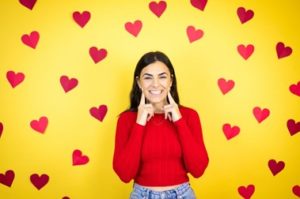 Shopping for the perfect present can be pretty stressful, especially with a key holiday coming up. No matter what your gift is for, nothing beats your loved one's beautiful, genuine smile as they open it. Why not give them a gift that will help keep their smile gorgeous and improve their dental health? Keep reading for 4 Valentine's Day dental gifts that can help your favorite smile stay bright and healthy!
A Brighter Grin
While it may be hard to imagine your loved one's smile being any brighter, a teeth whitening session with the dentist can help their grin go from a 10 to an 11! Over-the-counter whitening kits are easy to obtain, but they don't carry as much power as a professional treatment. You can use store-bought whitening products multiple times and still not achieve the appearance you're after. A professional treatment from the dentist can offer results that make your teeth up to 10 shades whiter in one easy visit!
An Electric Toothbrush
While both manual and electric toothbrushes can remove plaque, bacteria and food particles from your teeth, studies show that electric brushes are more effective. This is an excellent gift if your loved one has rheumatoid arthritis or other conditions that make it difficult to manipulate a manual toothbrush. They also come in a wide range of colors and styles, so you're sure to find one that your valentine will love!
A Travel Kit for their Smile
If your loved one is always on the go for work or traveling for the kids' out-of-town athletic events, a personalized dental kit is a great idea! A stylish leather toiletry bag is perfect for someone who loves a sleek, modern look. For someone who loves the minimalist look, a simple but chic leather or canvas bag could be just what they needed. After you've chosen the perfect bag, fill it with a modern electric toothbrush, a small container of disposable flossers, their favorite travel-sized toothpaste and an alcohol-free mouthwash.
Handheld Water Flosser
Water flossers are a great gift idea for anyone with braces, bridges and more! They push quick pulses of water between the teeth and other areas of the mouth, dislodging food and other debris. These devices come in a variety of colors and styles, so you can easily match it to your loved one's needs and personality. It is also a great gift idea for anyone who has to deal with issues like arthritis that make it difficult to hold traditional dental floss.
If you'd like to give your valentine the gift of a beautiful smile, these items are sure to be a hit. And while you're shopping, don't forget to show yourself some love and pick up an extra item for yourself!
About the Practice
Drs. Philip Batson and Elizabeth Abe provide patients of all ages with personalized, comprehensive dental services. Columbia Healthy Smiles has been improving the smiles of families for more than 40 years, and Dr. Batson continues his father's legacy today. He graduated from the University of Missouri-Kansas City School of Dentistry and is an active member of the American Dental Association, the Academy of General Dentistry and more. Dr. Abe also earned her dental degree from the University of Missouri-Kansas City School of Dentistry and regularly attends continuing education classes along with Dr. Batson to stay up to date on the latest technology and techniques in dentistry. If you'd like to give your loved one a brighter smile this Valentine's Day, contact the office at (573) 875-7071 or visit the website to learn more.