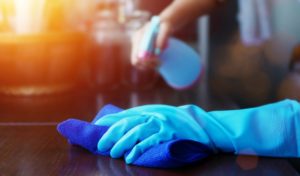 Thanks to their strict sanitation protocols, dental practices have always been exceptionally clean environments. However, it takes a lot more than simply spraying a store-bought disinfectant around the office to keep it germ-free, especially during a pandemic. Thankfully, your Columbia dentist follows extensive dental safety and infection control procedures to thoroughly eliminate any lingering particles. Here's what they're doing to keep their practice clean and ensure you are as safe as possible when coming in for dental care during COVID-19.
Staying Safe During Your Appointment
You can expect your first dental appointment after COVID-19 to look different from any you've had before. While many infection control practices are happening behind the scenes, your dentist has also established safety protocols for when patients arrive to the office as well, including:
Answering a health questionnaire and having a no-touch temperature check.
Rinsing with an anti-microbial mouthwash to reduce the bacteria in your mouth.
Disinfecting your hands with hospital-grade sanitizer before entering the treatment area.
Practicing Social Distancing in the Office
Even as the country begins to reopen, the best way to protect yourself from COVID-19 is to practice social distancing. Thankfully, your dentist has implemented several new measures to help reduce exposure between patients, like:
Sequenced scheduling to allow more time for coming and going between patients.
Fewer chairs, helpful signs, and one-way traffic to encourage six-foot spacing.
No magazines or toys in the reception area to limit the number of frequently touched items.
Maintaining a Germ-Free Environment the Right Way
Several steps are taken in a specific order to completely sterilize dental equipment and instruments. To eliminate any lingering germs or particles between patients:
Objects like countertops, switches, doorknobs, and dental lights are cleaned with soap and water to clear away debris and then disinfectants to kill any remaining microorganisms.
Dental instruments like dental mirrors, scalers, and drills are cleaned via high heat, high pressure, or chemical vapor as outlined by the Centers for Disease Control and Prevention as well as the American Dental Association.
Many dental tools like suction nozzle tips, needles, and gloves are non-reusable and thrown away after coming in contact with a patient to stop the spread of germs.
Now more than ever, your dental team is working tirelessly to keep the entire practice clean and safe. If you need to visit your dentist for care during the COVID-19 pandemic, you can feel confident that you're walking into a healthy and germ-free environment.
About the Practice
At Columbia Healthy Smiles in Columbia, MO, our top priority has always been the wellbeing of our patients. Typically, Dr. Philip Batson and Dr. Elizabeth Abe show this with individualized dental care that exceeds expectations of quality and comfort. However, in these unusual times, they continue to put the best interests of their patients first with an increased focus on infection control. They've heightened their exemplary sanitation protocols with 18 additional steps to ensure that your visit is as safe as possible during COVID-19. If you'd like to know more about their commitment to safety, feel free to reach them via their website or at (573) 875-7071.