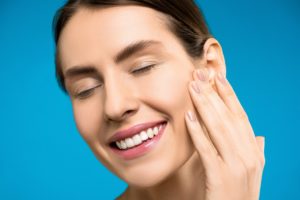 An attractive smile is attributed to youth, confidence, and success, but few people have flawless teeth naturally. The color and alignment of your teeth aren't the only components of a stunning smile. Here are 5 traits associated with picture-perfect teeth.
1. Tooth Color
Not everyone has white teeth. Not only do they come in endless shades and tones, but teeth also darken over time from age, diet, lifestyle, and oral hygiene. Although it's normal not to have perfectly white teeth, brown and yellow stains can make your smile look aged, dirty, or unhealthy.
2. Gum Display
Your gums influence your smile and dental health. A gummy smile occurs when too much tissue covers the surfaces of your teeth. They can look short or stubby.
3. Spacing
Gapped, overcrowded, or rotated teeth can increase your risk of cavities, gum disease, and bite problems. Ideally, your teeth should be straight with very slight spaces between them.
4. Dental Midline
Your dental midline can affect your overall facial appearance. If your front teeth aren't centered with your facial midline, your smile can look unbalanced. Your central incisors should be aligned with your midline.
5. Gum Color
Your teeth aren't the only factor to influence the way your smile looks. Your gums are equally important. Your gums should be bright pink. Gum disease can make them look red or swollen. They may even bleed easily from the infection.
Invest in a Stunning Smile
Your cosmetic dentist can turn the smile of your dreams into reality. They will consider several factors when creating your personalized treatment plan. You have more options than ever before to address common concerns, like:
Porcelain Veneers: Attaching veneers to the teeth visible when smiling can correct multiple flaws simultaneously, including stains, gaps, and chips.
Metal-Free Dental Restorations: All-ceramic materials are used to create durable restorations that look natural.
Cosmetic Dental Bonding: A composite resin is shaded to the color of enamel to blend in with a tooth when used to fix minor imperfections.
At-Home Teeth Whitening: Surface and age-related stains can be improved by up to 8 shades using a take-home kit for 2 weeks.
In-Office Teeth Whitening: Your teeth can get noticeably whiter in about 1 hour using a highly concentrated whitening system.
Improving your smile will boost your self-esteem and enhance your professional image. You won't think twice before showing off your pearly whites.
About Dr. Philip Batson
Dr. Batson earned his dental degree at the University of Missouri-Kansas City School of Dentistry and has regularly continued his training in many specialties, including dental implants and cosmetic dentistry. He is active in several professional organizations, including the American Dental Association. Request an appointment through his website or call (573) 721-9039.