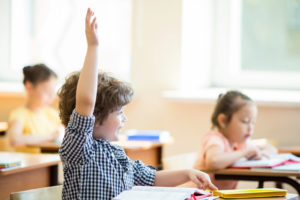 With smartphones and other new handheld technologies, children face significant distractions in the classroom that detract from their ability to learn. A less obvious distraction from the one in their pockets, however, could be one in their mouth. According to the Centers for Disease Control and Prevention, tooth decay is the most common chronic disease for children ages 6 to 19. So, before the new school year gets into full swing, be sure to bring your young son or daughter to see a children's dentist in Columbia. A preventive dental checkup can help ensure they start the new academic year smiling and ready to learn.
Why Dental Health is Important for Learning
Oral health can have a significant impact on a child's performance in the classroom. If a child is experiencing pain and discomfort caused by toothaches or other dental problems, they may find it difficult to focus in class and be less likely to actively participate. As a result, they may miss out on learning important lessons and their grades could suffer.
Furthermore, if minor dental issues are left untreated they could develop into more serious problems that cause your young son or daughter to miss valuable time in the classroom. Indeed, each school year, children with dental diseases miss more than 50 million hours of school, according to the American Dental Association. A back-to-school checkup is a good opportunity to identify and treat dental issues early on before they worsen and potentially disrupt your child's education.
Secrets to a Successful Dental Checkup for Children
Most kids would rather be outside playing than stuck in the dentist's chair. To help things go smoothly at a back-to-school checkup, consider the following points:
Timing is Everything – For younger children, avoid scheduling a dental checkup around their normal naptime so they will not be cranky during their exam and cleaning. For older children who may be tired after a long day at school, an early morning or weekend appointment may work best.
A Hungry Child is an Unhappy Patient – Children can be irritable and fussy when they are hungry, so try to feed your child a light meal before their dental appointment. However, do not forget to have them brush afterward! Your child's dentist will appreciate the polite gesture.
Older Children as Role Models – If you schedule back-to-back appointments for your children, have the older child go first if they are more comfortable in the dentist's office environment. Their younger brother or sister may be less anxious about hopping into the dentist's chair next if they first see how it goes smoothly for their sibling.
A back-to-school dental checkup is an excellent way to begin the new school year with a happy, healthy smile, so talk with a family dentist in Columbia today!
About the Practice
Healthy Smiles Columbia has been the dental office local families trust for oral care treatment for over 40 years. Well-established in the Columbia community, the friendly team at Healthy Smiles Columbia enjoys getting to know each patient and their families. For more information about Healthy Smiles Columbia, visit their website online or call the office at 573-875-7071.