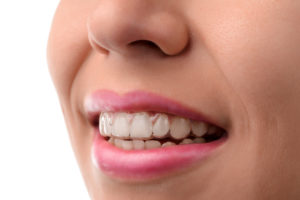 Walking into an important business meeting, going on a first date or smiling for the family Christmas card photo – each one of these scenarios calls for you to flash a wide, confident smile. However, if you have crowded or misaligned teeth, you may feel too embarrassed to offer up much more than a small, closed-lipped grin. Many teenagers and adults wish they could fix imperfections in their smile but do not want a mouth full of metal brackets and wires. If you count yourself among this group, you may want to consider Invisalign in Columbia to correct your smile. Here is everything you need to know about the modern alternative to traditional braces.
How Invisalign Can Improve Your Smile
Invisalign treatment uses a series of clear, removable aligners made of flexible, thin plastic to gradually straighten teeth. The aligners are designed to apply the right amount of force to the appropriate places in your mouth to gently shift your teeth over the course of several months until you reach your beautiful new smile.
Invisalign aligners are custom-designed to fit snugly over your teeth and for best results are typically worn for 20 to 22 hours a day, only being removed for eating, drinking and brushing your teeth. Your dentist will advise you when to change to a new set of aligners – usually weekly or every other week.
A major advantage of Invisalign compared to traditional braces is that they do not have any brackets or metal wires, so your friends, family and coworkers may not even notice that you are wearing them!
How Long Does Invisalign Treatment Last?
No two smiles are the same, so the length of Invisalign treatment will vary depending on how complex your case is and how closely you follow your dentist's instructions on how long to wear your aligners each day.
Your Invisalign-certified dentist will determine how long your treatment will last based on your specific needs and the unique conditions of your mouth.
On average, patients wear Invisalign aligners for 12 to 18 months. However, many patients begin seeing results in the mirror after only a few weeks.
Am I A Good Candidate for Invisalign in Columbia?
Invisalign clear braces can be a great solution to improve the smiles of both adults and teens. The treatment is generally not recommended for younger children whose mouths are still growing and developing.
Invisalign can correct nearly all common teeth-straightening and bites issues, including:
Mildly crooked teeth
Protruding or overcrowded teeth
Wide gaps in teeth
Mild overbites or underbite
Malocclusion, the imperfect positioning of teeth when the mouth is closed
Gone are the days when fixing your smile would automatically mean unsightly metal brackets must be attached to your teeth. Invisalign clear braces offer a subtle, effective way to achieve the smile of your dreams without interrupting your daily life!
About the Practice
At Healthy Smiles Columbia, Dr. Philip A. Baston continues his father's legacy by providing the ultimate in quality dental care to the Columbia community. Dr. Baston understands the importance of a confident, straight smile, which is why he is certified to provide Invisalign treatment for patients that want to fix dental imperfections. If you want to learn more about Invisalign clear braces and other cosmetic dentistry treatment options, visit the Healthy Smiles Columbia website today or call the office at 573-875-7071.