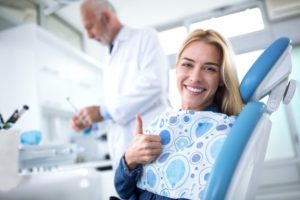 At first, the idea that visiting your dentist more often will save you money might seem counterintuitive, but it's true! When you're diligent about attending two dental checkups each year, you're less likely to have tooth decay, damage, or other oral health problems that require expensive (and time-consuming) treatments. In this way, an ounce of prevention is really and truly worth a pound of cure! Read on to learn four reasons why seeing your dentist in Columbia twice a year can benefit your smile and your wallet.
1. Catch Cavities Early
You'll be able to feel right away if you have a cavity, right? Wrong! More often than not, most people don't notice that they have tooth decay until it has grown large enough to affect the tooth's nerves. By that point, the cavity would require a dental crown or root canal. However, when your dentist can detect cavities in the early stages during a routine checkup, they'll likely be able to treat them with fillings, which are more conservative and cost-effective.
2. Prevent Gum Disease
Gum disease is the most common reason why adults lose teeth, and it's also linked to a number of health conditions, including diabetes and heart disease. Like tooth decay, gum disease is also hard to detect on your own at first. Luckily, your dentist can recognize the signs. If they spot early-stage gum disease, they can administer swift treatment before it impacts your pearly whites or your overall health.
3. Get Your Teeth Professionally Cleaned
Oral health problems like tooth decay and infections are often caused by the buildup of plaque, a sticky biofilm that constantly forms on your teeth. Although you can remove plaque on your own by brushing and flossing, chances are you won't be able to clean all of the areas of your teeth and gums. If plaque isn't cleared away after a day or so, it hardens into tartar, which only a dental professional can remove. That's where your six-month cleanings come in handy. Using special instruments, the dental hygienist can remove plaque and tartar buildup, leaving your smile fresh, clean, and healthy.
4. Make the Most of Your Dental Insurance
The overwhelming majority of dental insurance plans completely cover two checkups and cleanings a year. In most cases, you can get these quick and easy visits done at no extra cost to you! Not only can these appointments save you money in the ways mentioned above, but not attending them would essentially be wasting the money you're spending on your insurance premiums.
When it comes to your dental health, prevention is crucial. Combined with daily at-home brushing and flossing, biannual checkups and cleanings are the foundation of a healthy smile – and your wallet will thank you for these visits later on!
About the Author
Dr. Philip Batson is a caring, experienced dentist in Columbia, MO who earned his dental doctorate from the University of Missouri-Columbia. He gladly sees patients of all ages at Columbia Healthy Smiles and focuses on preventive care that benefits his patients' oral health as well as their bank accounts. His practice welcomes dental insurance and can even complete the claims paperwork on your behalf. To schedule your next dental checkup, you can contact Dr. Batson via his website or by calling his office at 573-875-7071.