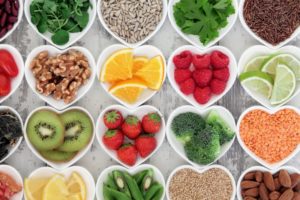 You've probably been cautioned against eating too many cookies, sweets, and chips for the sake of your smile. But did you know that regularly eating certain healthy foods can improve your oral health? By adding the right foods to your daily diet, you can fight off cavities, strengthen your teeth, and prevent gum disease! Find out which snacks your dentist in Columbia, MO recommends to naturally keep your smile happy and healthy!
High-Fiber Foods
Munching on crunchy raw vegetables and fruits like carrots, celery, and apples is a great way to combat cavities. These healthy foods that are high in fiber gently scrub the surfaces of your teeth as you eat them, removing any accumulating plaque and bacteria before they burn through your enamel. Since they require a lot of chewing, they also encourage saliva production, which acts as your body's natural defense against cavities.
Calcium-Rich Foods
Dairy products and calcium-rich foods are most often associated with strong bones, but they're also great for your teeth. While your enamel cannot repair itself as it becomes worn down over time, your saliva can use the calcium from the foods you eat to rebuild it. Low-fat cheese, milk, and yogurt are packed with this important vitamin, and so are almonds, canned fish, and sweet potatoes.
Foods with Phosphorus
Phosphorus is a naturally occurring mineral that's often found in lean proteins. It can help keep your smile strong and healthy by maximizing the effectiveness of calcium as it strengthens your enamel and jawbone. Phosphorus has also been shown to improve the function of muscles and nerves as well. You can find it in foods like chicken, salmon, whole grains, and nuts.
Vitamin C Filled Foods
Vitamin C helps fight off infections throughout the body, including the ones in your mouth. A bacterial infection in your gum tissue is known as gum disease. This incredibly common oral health condition can be kept in check with good oral hygiene and a healthy immune system, but if it's left untreated it can lead to tooth loss and larger health concerns. Thankfully, you can keep your gums healthy and strong by snacking on foods high in vitamin C, like oranges, pineapples, broccoli, tomatoes, and spinach.
Fortified Tap Water
Drinking tap water is a great way to lower your risk of cavities. Not only does it wash away any lingering sugars as you drink it, but tap water often contains fluoride. This important mineral can bind with your enamel to make it even stronger than before, which makes your teeth more resistant to cavities. As you're grabbing a healthy snack, why not pour a glass of tap water as well?
Better oral health could be as close as your kitchen! Try adding these healthy snacks to your diet for a delicious, natural way to improve your smile.
About the Practice
At Columbia Healthy Smiles, we are dedicated to providing the individualized care you need to keep your smile happy and healthy. At your regular dental checkups, our friendly and experienced team can help spot and stop small dental issues that could evolve into larger issues. We also place a high value on great at-home oral healthcare, so we'd be happy to answer any questions you may have about taking care of your smile during your daily life. Feel free to contact us via our website or (573) 875-7071.