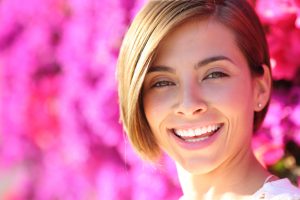 Looking for a way to upgrade your look this summer? Instead of buying that new outfit, why don't you consider whitening your teeth? You'd be surprised the impact that a whiter, brighter smile can make, and better yet people won't know what's different about you. They'll only know that you look amazing! Here's some more information about teeth whitening in Columbia, MO
In-Office Whitening
For those patients who don't have time to worry about whitening and need results fast, in a one hour appointment at Columbia Healthy Smiles, you'll be able to relax while your teeth become shades lighter. This option is great for patients with busy work schedules or a big event coming up that would like to make a big impact on their smile in very little time.
Take-Home Whitening Trays
For patients who'd like to whiten at their leisure, our team will customize clear plastic trays that you can use to whiten your teeth at home, based on your own schedule. This option works well for people who may want to update their smile again down the road. We sell the whitening gel at our office for your convenience so you'll be able to update your smile for your next vacation or big event.
First, we'll take impressions of your teeth and create molds, which will be used to fabricate your whitening trays. Next, you'll stop in for a quick visit to ensure that your trays fit and receive your whitening gel with instruction on how to properly use your trays. Finally, you're off to whiten at home. We recommend whitening every day for approximately two weeks at first in order to achieve your desired results, however when you choose to update you may only need to whiten once or twice.
Professional Whitening vs Over-the-Counter
You may think that it's more cost effective to purchase your whitening system from the grocery store, but here are some things to consider:
The professional whitening gel your dentist has access to is much stronger than what is sold at the store. This means less time to achieve your desired result.
Your dentist will make you custom fit trays, while an over-the-counter option may be ill fitting and hard to work with.
Over-the-counter systems are typically only designed to whiten your front six teeth.
It's advisable to whiten under the supervision of your dentist in case you may encounter issues with sensitivity.
At Columbia Healthy Smiles, Dr. Philip Batson can help you achieve the smile of your dreams, whether you're just looking to whiten your teeth or enhance their appearance with other cosmetic treaments. We encourage you to stop in and talk with Dr. Batson about your goals for your smile and learn more about your options. Contact our office today to schedule a consultation.