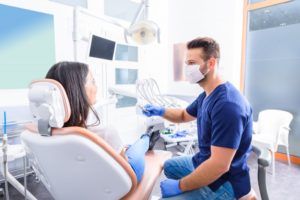 The dental world is constantly evolving, with new technological advancements soon to be introduced to the public. Over the next 10 years, you can expect to see a full rollout of products and services that will change the face of dentistry and the patient experience. As you continue reading, a dentist in Columbia lists 5 changes you can expect to see in the near future!
#1 – Artificial Intelligence Involved in Care
You've probably seen the futuristic movies with robots performing a host of duties that were normally reserved for humans. As it turns out, the future is now. Developers have steadfastly been working on dental technology that uses artificial intelligence (AI) to review X-rays, scans for findings (part of the oral examination process), crown margins and perform other key duties. Some dentists are looking forward to this, as it will contribute to more accurate results and help save time and money.
#2 – An Increase in Group Dentistry
Dental coverage is becoming more complex. In the future, you can expect to see more dental offices join forces to make it easier for patients to understand the coverage changes. This will also allow dentists to share valuable information and make standardized procedures more affordable to patients. The more streamlined model will also allow for more effective training for dentists and their staff.
#3 – More Responsibility for Hygienists
As America's population grows and gets older, the need for dental care will only increase. In response to the demand, hygienists will be asked to do more. Over the next decade, you can expect to see them providing more preventive, diagnostic and restorative care. This will allow dentists more time to focus on treating the more complex dental issues.
#4 – Creative Payment Models
It's no secret that cash is rapidly becoming obsolete. As Millennials and Generation Z's come of age, they are expecting more online payment options to fit their current lifestyle. Over the next decade, patients can look forward to dentists providing updated means of scheduling appointments, making payments and completing pre-authorizations. This provides a way for patients to track their dental data online so they can remain completely in the loop at all times.
#5 – Mobile Dentistry
Taking the concept of convenience to a new level, dentists will be moving deeper into cyberspace to meet their patients' needs. In the future, dentists will perform virtual visits, expanding care beyond their offices. Patients will benefit in the following ways:
There could be some cost savings.
They'll have greater access to their dental data.
They'll save time by not having to deal with traffic.
While these new changes won't happen overnight, they are certainly in the works. As the world continues to evolve, so does dentistry. To learn more about the new dental trends, ask your local dentist at your next visit.
About the Author
Dr. Philip Batson earned his dental degree from the University of Missouri-Kansas City School of Dentistry. To stay abreast of the new innovations in dentistry, he maintains professional affiliation with the Missouri Dental Association, Central Dental Society and other organizations. Dr. Batson provides cutting edge dental care at Columbia Healthy Smiles, and he can be reached for more information or to schedule a visit through his website.