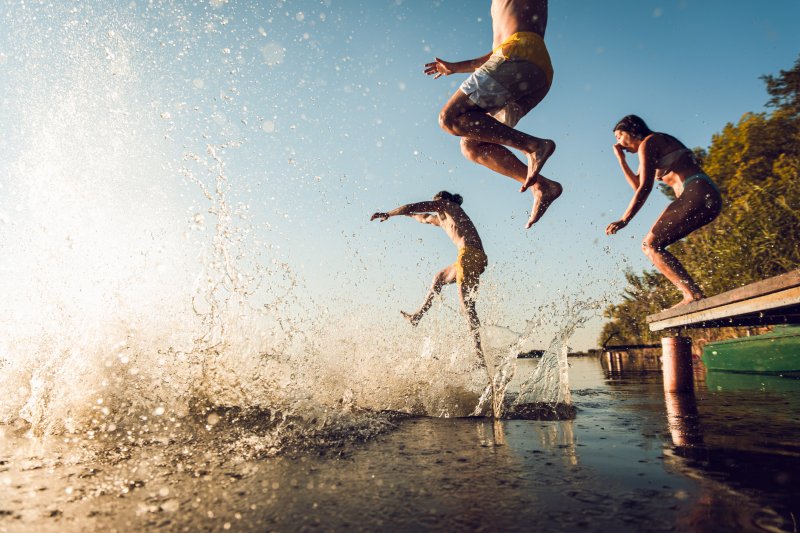 Well, the heat in the US is ramping up. Much of the country is starting to see triple-digit temperatures most days. With that said, you're likely ready for a summer trip. A fun seasonal getaway would help you cool off! While you're away, though, do care for your smile. A healthy set of teeth will make your summer fun all the better. Your Columbia dentist can even help with some advice. To that end, here are four crucial oral health tips for your summer vacation.
Pack the Dental Essentials
Among other things, you'll likely bring swimsuits, sunscreen, and sunglasses on your vacation. Still, don't forget to pack your dental tools as well. These items are easy to overlook and may not be available at your getaway spot.
In particular, make sure your "dental essentials" include the following:
Travel-Size Toothbrush: A soft-bristled toothbrush is great for removing plaque.
Travel-Size Toothpaste: Fluoridated toothpaste can strengthen your tooth enamel.
Travel-Size Dental Floss: Dental floss prevents tooth decay and gum disease, so bring some for the trip.
Watch Your Vacation Diet
You're perfectly free to try tasty stuff on your vacation. After all, that's one of the big appeals of travel! However, you should be careful as you select your meals. Various foods and drinks can harm your teeth and gums.
For starters, try to eat only a few sweet desserts. Summer favorites like ice cream and snow cones have lots of tooth-decaying sugar. If you're not careful, they could cause you to get a cavity. In that case, you'd have to change your plans and find the nearest dentist.
Stick to Your Oral Routine
When on a vacation, you may want to skip your normal routines. Even so, you really ought to stick to your oral hygiene habits. Skipping dental care during your trip will cause various mouth issues.
Given these facts, care for your teeth as you would normally. More specifically, remember to brush twice daily and floss once daily. Furthermore, rinse your mouth with mouthwash as needed.
Get a Pre-Trip Dental Checkup
Perhaps most importantly, try to see your dentist before you leave. A quick pre-trip checkup will do your mouth a lot of good.
You see, this dental visit will help prevent oral emergencies abroad. It gives your dentist a chance to treat dental issues before they worsen. As a result, a pre-existing problem won't become something severe.
Ultimately, these oral health tips for your summer vacation are vital. They'll ensure your trip beats the heat and livens up your season!
About the Practice
Columbia Healthy Smiles is based in Columbia, MO. Led by Drs. Batson and Abe, our practice helps all patients get the teeth they want. In particular, we offer preventive, cosmetic, and restorative services tailored to your unique grin. Our office also provides emergency dental procedures like root canal therapy and tooth extractions. For more information or to book an appointment, you can reach us on our website or by phone at (573)-875-7071.