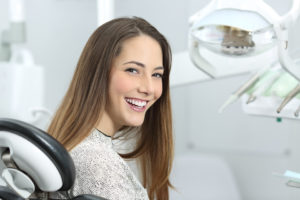 Do you have a tooth that needs attention but feel worried about visiting the dentist during the COVID-19 pandemic? Delaying dental treatment can allow a damaged or decayed tooth to worsen. In fact, if you wait too long, you may eventually need to have your tooth extracted! Fortunately, you can now get a high-quality dental crown in just a single trip to a dentist in Columbia thanks to CEREC technology. CEREC crowns are the perfect way to restore one's smile in a flash during these socially distant times.
What Is a CEREC Crown?
For a traditional crown, a dentist must take an impression of a patient's tooth and send it off to a dental lab to be crafted. A patient is typically provided a temporary crown to wear while they wait for their permanent crown to arrive back at the dentist's office.
CEREC, which stands for Chairside Economical Restoration of Esthetic Ceramic, saves patients precious time by essentially cutting out the middle man. Instead of relying on an outside dental lab, a dentist instead uses cutting-edge computer-aided design and manufacturing technology to design and craft a custom crown on the spot.
Highly accurate 3D images of the affected tooth are fed to an in-house milling machine, which in an hour or less can carve a new custom crown out of a solid ceramic block.
What Are the Advantages of CEREC Crowns?
The biggest advantage of CEREC technology, especially in times like these, is that it enables a dentist to design, manufacture and place a new crown all in a single appointment. From start to finish, the entire CEREC process takes just one to two hours. By choosing a CEREC crown, you can save valuable time and avoid the stress involved in coordinating multiple trips to the dentist's office.
Additional advantages of CEREC crowns include:
No Mess – A tiny digital camera is used to make an impression of your tooth instead of the messy putty-like material used for traditional crowns. 
No Waiting Period – You will not have to wear a temporary crown for a week or so while you wait for a permanent crown. 
Long-Lasting – With proper care, you can expect your CEREC crown to last 10 to 15 years.
Am I A Good Candidate?
If you want to take care of a damaged tooth but do not want to deal with the hassle or anxiety of making multiple trips to the dentist, you are likely a good candidate for a CEREC crown. Like traditional restorations, CEREC crowns can address all of the following problems:
Broken or cracked teeth
Misshapen or undersized teeth
Discolored teeth
Teeth that are weakened from root canal therapy
Teeth that are weakened due to large dental fillings
Remember, avoiding important dental issues now can lead to bigger, more serious problems in the future. Get the attention you need without wasting any time by asking your dentist in Columbia about CEREC crowns.
About the Author
A second-generation dentist, Dr. Philip Batson provides quality oral care and same-day restorations in central Missouri. The Columbia native enjoys helping rebuild patients' smiles with CEREC crowns, traditional dentures and dental implants. To learn more about CEREC crowns and other restorative dental treatments, visit the Columbia Healthy Smiles website or call 573-875-7071.