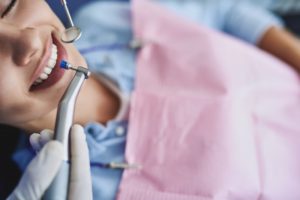 The bright-sunny days of summer seem to magically lift your spirits and encourage you to put a smile on your face. This is also the time of year when countless events are held, which means an endless number of pictures will be taken. If you have teeth stains, you may be hesitant to smile for photos and meet new people. Thankfully, there's a way around this. Continue reading to learn why summer is the best time to visit a dentist in Columbia for teeth whitening!
#1 – You Won't Have to Run from the Cameras
You've probably heard the saying that "pictures are worth a thousand words." Because of your teeth stains or discoloration, you find yourself shying away from the customary summer photos. With professional teeth whitening, your smile can be brightened by as much as eight shades. Therefore, instead of hiding in the back row, you'll be front and center when it's picture time.
#2 – It's Great for Your Health
When you smile, endorphins, dopamine, serotonin and oxytocin are produced. These are all considered to be "happy" hormones that contribute to reducing the body's inflammation. In doing so, they help to counter the negative effects of stress. Thus, anything that gives you more reason to smile is excellent for your total wellness.
#3 – You'll Make New Connections
The summer months are the perfect time to make new acquaintances. Having a beautiful smile has a magnetic effect, attracting people and allowing you to make a positive first impression. That's because it broadcasts a positive message – one of friendliness, confidence and attractiveness.
#4 – The Results are Fast
One of the biggest perks of having your teeth professionally whitened is that you'll be able to see phenomenal results. While many people attempt to brighten their smile by using over-the-counter products, the results they provide pale in comparison to what you stand to gain by having your teeth professionally whitened.
By visiting a dentist, you'll have the peace of mind of knowing that the best products are used, the safest measures are taken and the procedure is completely customized to fit your smile needs.
Over the years, drinking darkly colored beverages like coffee, tea, wine or beer may have caused stains or discoloration, leaving you feeling less confident. Instead of settling for hiding your smile for the rest of your life, professional teeth whitening provides an avenue to feel better about your appearance and let your personality shine bright.
If you want this to be a summer to remember, now is the time to act!
About the Author
Dr. Philip Batson earned his dental degree from the University of Missouri-Kansas City School of Dentistry. Throughout his career, he has remained quite active, taking several hours of continuing education courses to further expand his knowledge. Dr. Batson understands how important it is to have an attractive smile, which is why he offers customized teeth whitening at Columbia Healthy Smiles. He can be reached for more information or to schedule a visit through his website.