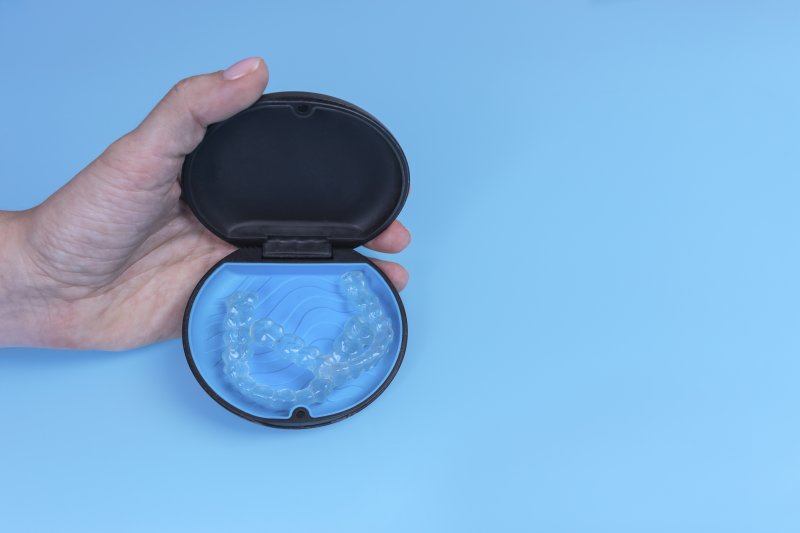 The holidays are just around the corner! There are so many exciting things to look forward to. Whether you are eager to string lights around your home, catch up with relatives, listen to festive music, or cook up seasonal recipes, everyone has something that they are excited for. However, it can be easy to neglect important commitments, like Invisalign in Columbia. Here are some holiday tips to help you stay on track.
Bring Your Invisalign Case with You
When you don't have your aligner case with you, you are more likely to end up placing it on the table or a napkin when you are finishing your meal. This may not sound like a serious problem on its own, but this is how lots of patients wind up accidently misplacing or throwing away their aligners by mistake. This can even delay your treatment. To prevent this from occurring, you should bring your aligner case wherever you go, even if you aren't planning on removing them.
Wear Your Invisalign Throughout the Entire Day
In order for your treatment to go smoothly, you will need to wear your aligners for a majority of the day. The American Dental Association recommends that you wear your aligners for 20 to 22 hours each day. If you do not, you will interfere with the straightening process and could end up needing to wear them even longer to get the results you desire.
Remove Your Aligners Before Eating
Before you eat or drink anything that isn't water, take your aligners out. It may not seem like an issue to have a sip of coffee with your trays in, but this can actually cause damage to their structure and cause you to experience discomfort. If you drink something sugary, it can get stuck between your aligners and teeth, leaving them vulnerable to cavity-causing bacteria.
Keep Your Aligners Clean
Each time you eat, brush and floss to remove small food particles that will get stuck in your teeth. If you aren't brushing away these food particles, you could end up with bad breath, bacterial growth, and tooth decay. If you are travelling for the holidays, don't forget to bring your toothbrush, toothpaste, and dental floss. A travel sized mouthwash is also a good idea to ensure that your mouth remains completely clean.
Enjoy your festive season, but keep up with your orthodontic treatment. By staying on top of your aligners, you'll have a straighter smile in no time!
About the Practice
Dr. Elizabeth Abe and Dr. Philip Batson earned their dental degrees from the University of Missouri in Kansas City. Dr. Abe regularly attends continuing education courses, and Dr. Batson is a member of numerous organizations including the American Dental Association. For more information on Invisalign or to schedule a consultation at Columbia Healthy Smiles, visit their website or call (573) 875-7071.