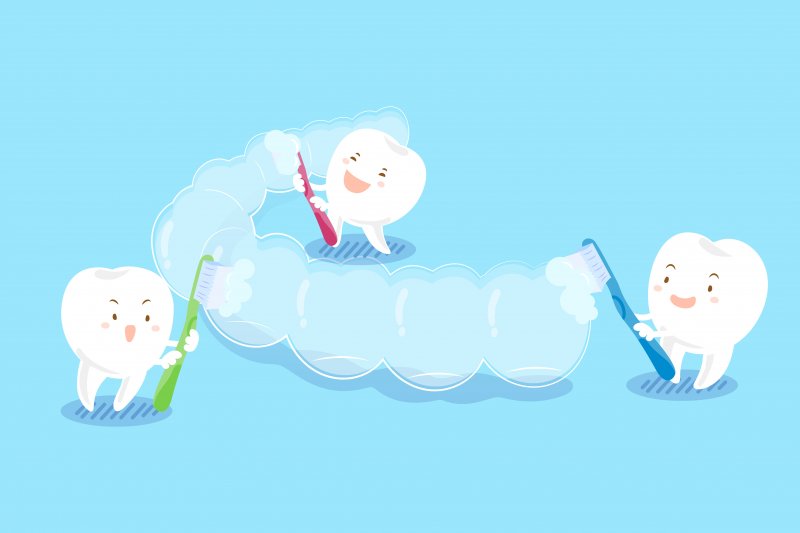 One of the reasons that Invisalign aligners are so popular is because of their convenience. They're removable, meaning you won't have to deal with any dietary restrictions for the period you're wearing them. The treatment as a whole will also take less time than traditional braces.
That said, there is quite a bit you'll have to learn to do for the year or so you'll be wearing your aligners. Upkeep is important, and managing them well is the best (arguably the only) way to see your desired results. Here are a few things you can do to keep your aligners in top shape.
Clean Up Before Putting on Your Aligners
The first on this list is possibly the most important. You need to clean your aligners daily, and ideally every time you take them off. This is crucial, as otherwise there will be bacterial buildup on the inside of your trays. It's also important to brush and floss before you replace your aligners, for the same reason.
This is probably the most difficult aspect of wearing your Invisalign aligners to get used to. If it helps, you may want to start carrying a travel dental kit with you to make cleaning easier.
Don't Eat or Drink While Wearing Your Aligners
The plastic of your Invisalign aligners is durable, but not designed to handle the stress of eating. While it might seem easier to simply eat with your aligners in, doing so can easily lead to a fractured tray. It's also recommended that you only drink room-temperature water while wearing your aligners. Hot coffee or ice-cold sodas are not only capable of staining your trays, but the extreme temperatures can also cause your aligners to warp. Needless to say, this isn't comfortable. You can still eat and drink whatever you want, just be sure to remove your aligners before you do.
Keep Your Aligners Safe
Because you'll be taking out your aligners whenever you eat, there's a real risk that you could lose them if you aren't careful. The best thing to do is to have a designated carrying case where you can put your trays anytime you need to take them off. Be sure to never leave your lying on a table or wrapped in a napkin, as that's the easiest way to accidentally throw them away.
While this may sound like a lot to do, there's no arguing with the results. If you're diligent with taking care of your aligners, you'll have a smile you can be proud of in no time at all.
About Our Practice
At Columbia Healthy Smiles, we are passionate about providing dental care informed by empathy and compassion. That's why we not only work hard to make our patients comfortable, but also to offer them the highest quality dentistry possible. Our Dr. Baston is also a certified Invisalign provider, so we can help you with whatever orthodontic issue you're facing.
If you have any questions about taking care of your Invisalign aligners, we can be reached at our website or by phone at (573) 875-7071.