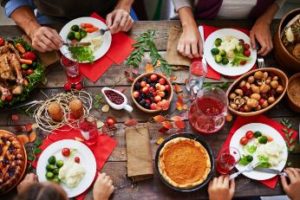 From Halloween to Thanksgiving and Christmas, this time of year is filled with fun and festivities – as well as candy and desserts galore! You're likely to find something sweet to munch on at every holiday event and even the breakroom at work. Unfortunately, all that sugar doesn't bode so well for your teeth. In fact, an estimated 27% of American adults have undiagnosed cavities. But the good news is that there are 6 easy things you can do during the holidays so you can still enjoy yourself, without needing major work from a dentist in Columbia. Keep reading to learn more!
1. Avoid Snacking and Grazing
When it comes to the "cavity equation," it's not only the amount of sugar you eat, but also the frequency that makes a difference.
One great way to remember this is the phrase, "Sip all day, get decay." This will remind you to consume sweet foods and beverages in one sitting rather than grazing throughout the day.
2. Do Especially Well With Brushing and Flossing
It's always important to do well with brushing and flossing, but when you're eating more sweets than usual, your oral hygiene habits are extra-important. Be sure to brush for 2 minutes, twice a day and floss once. You can also pick up some fluoride (or anti-cavity) mouthwash at the store to strengthen your enamel and prevent tooth decay.
3. Reach For Water
It's a good idea to make water your beverage of choice during the holiday season, and it's especially helpful to swish with it a few times after eating anything sweet. It not only helps you stay hydrated, but also washes away plaque, bacteria, and sugars that contribute to cavities.
4. Choose the Right Kind of Treats
The longer that sugar remains on your teeth, the more harmful it is. Try to minimize or avoid the following kinds of candy as much as possible:
Hard candies that take time to dissolve
Sticky candies like toffee, gummies, or caramel
Sugary gum
5. Chew Sugar-Free Gum
Chewing sugar-free gum is a great way to reduce the risk of cavities when you're on-the-go. It stimulates salivary flow to wash away food debris and plaque, and also neutralizes the acids that cause cavities.
6. Schedule a Checkup
Regular checkups are always important, but even more so at the holidays. It's a great time for everyone in the family to get a professional cleaning and fluoride treatment to strengthen their teeth. It's also important to make sure you don't have any undiagnosed cavities that will become larger if they're not treated.
The holidays are a wonderful time of year – make sure they stay that way with these 6 tips for maintaining a healthy smile!
About the Author
Dr. Philip Batson is not only a family dentist in Columbia, but a native of the area as well. He knows how much he and his family enjoy the holiday season and wants to help his patients enjoy them, too – while staying cavity-free. That's why he focuses on prevention to help his patients avoid the need for dental work as much as possible. If you have any questions about good oral health during the holidays, he can be reached via his website or at (573) 875-7071.