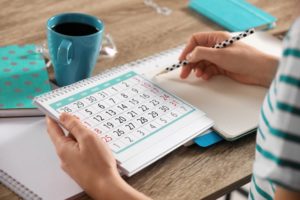 The new year is in full swing, and if you're like most other people, your life is busy, and your schedule for the year is filling up quickly. While you're setting up dates and jotting plans down in your calendar, make sure to prioritize your next dental checkup. Your Columbia dentist shares the reasons why getting a visit to your dentist in the books as early in the year as possible can save you time and money and promote oral and overall health.
Reasons Why You Shouldn't Wait to Schedule Your Next Dental Checkup
Oral health is best maintained through regular preventive care. Just like you take your vehicle in for maintenance to keep it running well, your teeth and gums need to be checked in on and deep cleaned sometimes. Here's why you shouldn't wait to see your dentist:
You'll maximize your dental insurance benefits.
Like most dental insurance plans, yours likely has a deductible that you must pay out of pocket before the company will begin to cover treatment costs. The sooner you meet that amount, the less you'll spend on future treatments that you might not expect. This is especially helpful if you have multiple people under your plan.
There will be more options available for appointments.
If your agenda is filling up quickly, your dentist's probably is as well. The longer you wait to book your next checkup, the fewer options you have. Make sure to do it as soon as possible so that you can choose a day and time that work best with your schedule.
Your dentist has the opportunity to catch potential health issues.
Seeing your dentist regularly is one of the best ways to prevent oral health issues. Each time you visit them, they check your throat and the soft tissues in your mouth for any signs of oral cancer. Thanks to early detection, the survival rate has risen significantly in the past few decades. They also take x-rays that help them examine your gums and jawbone for any signs of recession or deterioration that could signal gum disease. The sooner a potential issue is identified, the easier and less expensive it is to treat.
Don't let another month pass you by without prioritizing your smile. Call your dentist as soon as possible to schedule your next dental checkup.
About the Practice
Dr. Philip Batson and Dr. Elizabeth Abe are laser-focused on building relationships with all of their patients that are based on care and trust. They understand the importance of regular preventive dental care, and it is their goal that everyone that walks through their doors is armed with the knowledge and tools they need to protect their smiles. Their combined years of training and experience make them your go-to dental practice in Columbia. Are you ready to schedule your next dental checkup? You can request an appointment online or call us at (573) 875-7071.