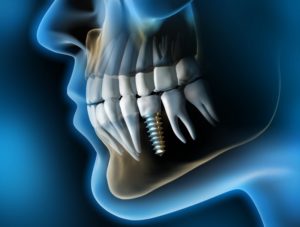 Dental implants in Columbia are commonly used to replace missing teeth. A post made of the biocompatible metal titanium replaces the tooth root and a restoration—a porcelain crown, fixed bridge or denture—stands in for the portion above the gum line.
Dental implant surgery may involve several procedures, including bone grafting. Once the entire process is completed, you will have a lifelike artificial tooth that is firmly anchored in your jawbone that offers stability and many health benefits.
Preparing for Dental Implants
Before receiving dental implants, your dentist in Columbia will conduct a thorough dental examination that will likely include digital X-rays as well as impressions to make models of your teeth and mouth.
With this information, a customized treatment plan will be developed. The plan considers the number of teeth you need to have replaced and condition of your jawbone.
Because oral surgery is required to have dental implants, you will need to inform your dentist about any medical conditions you may have as well as the medications you take, including over-the-counter and prescription.
To keep you comfortable during oral surgery, some type of anesthesia will be necessary: local anesthesia, mild sedation or general anesthesia. Speak to your dentist about the best option for you.
Bone Grafting Before Dental Implants
If you've lost bone density in your jaw—in other words, your jawbone has thinned or softened—then bone graft surgery may be required before you receive implants. During bone grafting, a small section of bone is removed from another part of your body (cadaver or artificial bone can also be used) and placed where the implant is needed.
Several months are then required for enough new bone to grow and be ready to support a dental implant.
What to Expect When You Have Dental Implant Surgery
To place your dental implants, the dentist makes a small incision in your gums to expose the bone. The implants are surgically positioned deep in the bone to afford the greatest security for your eventual tooth restoration.
Immediately after surgery, it is not uncommon to experience some minor bleeding, bruising, and swelling. If you are having discomfort, an over-the-counter pain reliever should suffice.
Over the next several months while your gums heal, the implant and surrounding bone tissue fuse together in a process called osseointegration. Once the implant and bone have bonded, you'll return to your dentist in Columbia to have an abutment attached to the implant. Your gums will close around the abutment.
Finally, after the abutment has been in place for a few weeks, your fixed or removable tooth restoration will be attached to the dental implants. With good oral hygiene at home and regular dental checkups, you can expect your dental implants to last for many years.
Call our office if you have questions about dental implants, or if you would like to schedule a consultation.
About the Author
Dr. Philip Batson earned his dental degree from the University of Missouri-Kansas City School of Dentistry. Since then, he has been dedicated to helping patients have healthy and beautiful smiles. Dr. Batson can be reached for more information through his website.