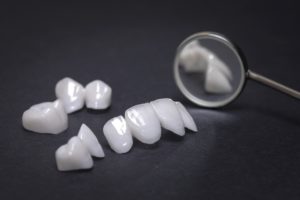 No one ever expects to lose a tooth, but 120 million Americans live with an incomplete smile. If you're among those who have lost a tooth or two over the years, you can fill the empty spaces with a dental bridge. Your dentist in Columbia can replace your missing teeth with close replicas of your own. You'll enjoy a long-term solution that looks natural.
What is a Dental Bridge?
A dental bridge is used to close the gap between consecutive missing teeth. An impression of your mouth is taken to recreate the portions of your teeth that were visible above the gum line. They are made of all-ceramic material to match the color, size, and shape of your natural teeth.
Your bridge is held in place using one of two common methods:
Dental Crowns. Dental crowns can be placed on the adjacent teeth to hold the bridge in place. This is a custom-made cap bonded over the entire portion of the tooth above the gum line. This allows you to enjoy a convenient solution, but you'll need to permanently alter healthy teeth.
Dental Implants. An implant post can be surgically placed into your jawbone to support your bridge at either end. This allows you to replace the entire structure of the tooth, including the root. You'll benefit from a treatment that looks and feels natural, but it will take several months to complete.
What are the Benefits of a Dental Bridge?
No matter how many teeth you're missing, it's important to have them replaced right away. Untreated tooth loss causes your jawbone to slowly deteriorate. Over time, your remaining teeth won't have the support they need to stay in place. As they shift out of alignment, it increases your risk of cavities, gum disease, and additional tooth loss.
A dental bridge allows you to fill the empty spaces to achieve a variety of benefits, including:
Complete smile to preserve your oral functions.
Protects remaining teeth from dental drift.
Maintain your ability to speak clearly.
Looks natural to smile confidently.
Supports your facial tissues for a youthful appearance.
Improves oral health to reduce dental costs.
How Long Does a Dental Bridge Last?
A traditional dental bridge is proven to last for a decade or longer with the right aftercare, like maintaining your oral hygiene at home and visiting your dentist twice a year for a cleaning and checkup. If you'd like a more permanent solution, dental implants are proven to last for decades with the right care.
Complete Your Smile Today
You don't need to live with the challenges of an incomplete smile. Your dentist can replace your missing teeth with a dental bridge. Feel confident and enjoy your favorite foods by filling the empty spaces today.
About Dr. Philip Batson
Dr. Philip Batson enjoys helping his patients achieve healthy, beautiful smiles. Supported by extensive training and qualifications, he's an active member of various organizations, including the American Dental Association and the Missouri Dental Association. You can rest assured your smile is in good hands. Contact our office today to schedule an appointment.