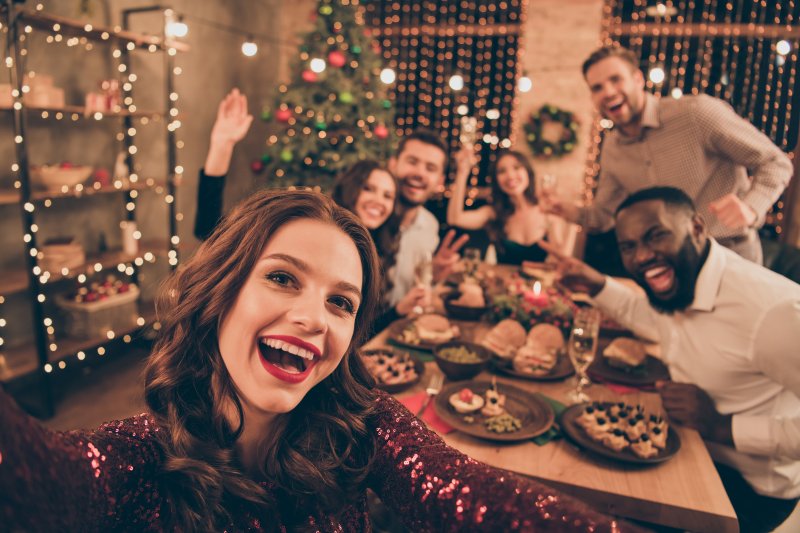 With the holiday season here, it's understood that the most important ingredient at any gathering will be sugar, whether in the form of beverages, desserts or rich and flavorful side dishes. This can pose some possible problems for your oral health, though. As you continue reading, a dentist in Columbia explains what you can do to protect yourself while still enjoying all the magical delights the holidays have to offer!
Why Sugar Can be Dangerous
The main issue with sugar is that it's the food of choice of oral bacteria. This is a big deal, considering the fact that the growth of the microorganisms is the primary cause of such issues as cavities and gum disease. The good news is that you don't have to avoid all the holiday deliciousness to protect your teeth and gums. You can still enjoy yourself; it just takes a little planning.
Start by Establishing a Sugar Budget
The first step to preventing any oral health mishaps is to set a limit for how much sugar you'll consume at an upcoming holiday event. The less you take in, the better your chances are of avoiding cavities and other challenges.
Drink More Water
In addition to setting some limits on how much sugar you'll consume, it's a good idea to increase your water intake. This will help to flush away some of the remaining residue after you eat a meal or dessert.
Increase Your Protein Intake
One way to control any sugar cravings is to eat more protein. It will leave you feeling more satiated, which naturally translates into less sugar consumption. In addition, the phosphorous that is found in these types of foods helps to strengthen your tooth enamel. Some excellent sources of protein that you may find at a holiday gathering are cheese, chicken, turkey and nuts.
Practice Excellent Oral Hygiene
By committing to brushing and flossing your teeth at least two times a day, you can help to ward-off any harmful bacteria growth. For even more protection, you can perform your oral hygiene routine after every meal. Just be sure to wait around 30 minutes after you finish eating and drinking to prevent any enamel damage.
Pay Your Dentist a Visit
This is the perfect time of the year to pay your dentist a visit for a checkup and cleaning. In addition to providing the assurance that your oral health is where it should be, it's also a great way to maximize your dental insurance before the year ends.
It's comforting to know that you don't have to abstain from all the holiday season's delights to maintain your oral health. Instead, with a little discipline and the help of your local dentist, your teeth and gums will be protected!
About the Author
A graduate of the University of Missouri-Kansas City School of Dentistry, Dr. Philip Batson understands the importance of enjoying time with family and friends during the holiday season. Thus, he provides patients with careful and thorough preventive care to ensure they have healthy teeth and gums. Dr. Batson practices at Columbia Healthy Smiles, and he can be reached for more information through his website.