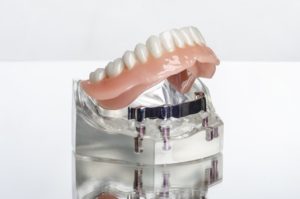 You're finally fed-up with struggling to do basic tasks like chewing and speaking because of missing teeth. After researching different restorative options, you're excited to speak to your dentist about getting dental implants in Columbia. You know this is the best option for your oral health and you're excited to get a confidence boost after years of having an incomplete smile. Determined to learn more about the procedure, you want to be able to go into your consultation with the ability to decipher dental jargon. Read on for a breakdown of terms that your dentist will use during your dental implant consultation.
Implant
One of the first major steps in the procedure is having titanium implants surgically inserted in place of your tooth's root. These posts fuse with your jaw to provide a stable foundation for the abutments and restorations to be placed on top of. Once these are placed, it will take a few months for the implants to fuse with your jawbone and your gums to heal for the abutments to be placed.
Titanium
Modern implants are made of titanium, a material that few people have allergic reactions to. Titanium is strong and lightweight, allowing it to better distribute weight and reduce the pressure placed on your jaw and oral tissues. Additionally, titanium has a high oxygen affinity and forms a thin oxide layer that prevents corrosion and allows them your implants to last longer.
Osseointegration
Osseointegration is the process in which your titanium implants fuse with your jawbone. This is what allows dental implants to offer countless oral health benefits like promoting jawbone growth. Because your bone and oral tissues will be stimulated, you won't have to worry about your face becoming saggy or drooping, like you would with other restorative options.
Abutment
Once the titanium posts have fused with your jawbone, your dentist will attach the abutments to the top of them. The abutment is a custom-made connector piece that holds your restoration in place. The structure resembles a shortened tooth, which makes it perfect for placing a crown or dentures on top of. Typically, it takes about 4 to 6 weeks for your gums to heal around the abutments.
Crown
Dental crowns are custom-made caps for your teeth that can be made from materials such as ceramic, porcelain, porcelain fused with metal, or composite resin. They're made to match your natural teeth in shape, size, and color. Implant-retained crowns are a great option if you're missing only one or a few teeth.
Dentures
Because of recent advancements in dentistry, dentures look more realistic than ever. Implant-retained dentures are a great solution if you're missing many or all your teeth. After your abutments are connected, your dentist will take impressions of your gums and send them off to a dental lab for your dentures to be crafted. Once they're made and placed, you'll be able to enjoy a natural-looking and functioning smile that you won't have to worry about slipping or shifting.
While preparing for your consultation appointment with your dentist, be sure to write out a list of any questions you may have. Knowing all the facts about the procedure can make you feel confident and comfortable in your decision. Remember that leaving missing teeth unreplaced can have a negative impact on your smile and oral health. With all the benefits implants are able to offer you, getting them seems like a no-brainer!
About the Author
Dr. Philip Batson has been serving his community for nearly 6 years. For him, dentistry isn't just a profession, but a family tradition and passion that he carries on. He enjoys getting to know his patients and providing them with the highest quality of personal care. For any questions or to schedule a consultation, visit his website or contact 573-875-7071.