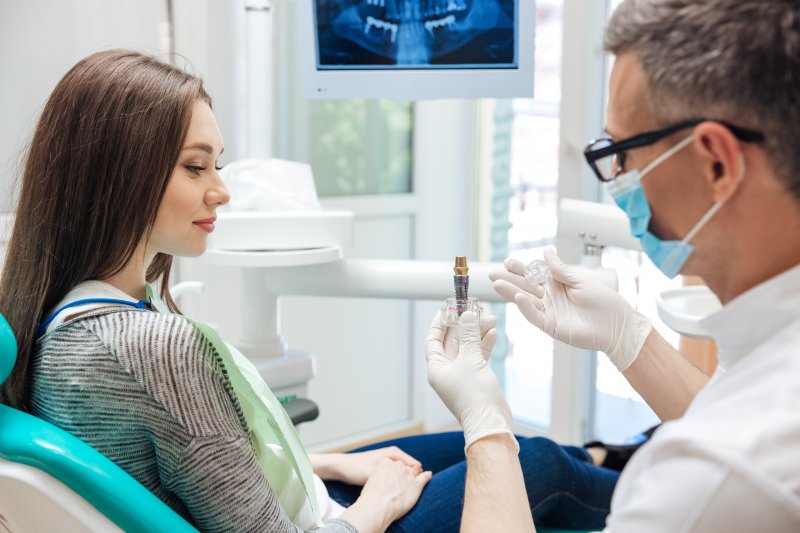 Recently, one of your teeth fell out, and you've been looking into tooth replacement options. During your appointment with your dentist to discuss what the best choice would be, they recommended getting a dental implant. When discussing the procedure, they threw out various terms you've never heard before. Not knowing what terms related to your treatment mean can make you feel uncertain and confused, so we've put together a list of common dental implant terms you should know.
What Are Dental Implants?
Dental implants are replacement tooth roots that are usually made of titanium since it's strong, durable, and can fuse to bone over time through osseointegration. They are ideal for patients who have good oral health with one or more missing or compromised teeth. Though dental implants offer many aesthetic benefits, they also play a key role in maintaining the overall function of your mouth. Dental implants help prevent bone deterioration and support a healthy bite and a healthy jawbone. They also act, look, and feel like your natural teeth. They are designed to last upwards of 25 years, but with proper care and regular dental appointments, they can even last a lifetime.
Terms You Should Know
There are a few basic dental implant terms you should know to make your procedure seem less daunting. These terms include:
Abutments – the connectors that are built into or attached to dental implants to hold the replacement tooth or teeth in place
Ceramic – material often used to make implants
Crowns – a tooth-shaped cap that can be placed on a single dental implant to replace one missing tooth
Final Restoration -the crown, bridge, or denture that is attached dental implants to replace missing teeth
Implant – a replacement for the tooth root that is usually made from titanium due to its durability, strength, and ability to fuse to the jawbone
Implant Dentures – a full or partial denture that is held in place with dental implants instead of suction or metal clasps
Osseointegration – process through which implants fuse to the jawbone so they can function like your natural teeth
Prosthesis – a crown, bridge, or dentures
Titanium – material dental implants are most often made from
If you have any questions regarding your dental implant procedure, make sure to ask your dentist. Though dental implants are designed to last upwards of 25 years, with proper care, you can enjoy a complete, beautiful smile that lasts a lifetime!
About the Practice
It can be a hassle to find a dentist that meets your needs. That's where Dr. Philip A. Batson, Dr. Elizabeth Abe, and the talented Columbia Healthy Smiles team come in! They aim to provide a range of exceptional dental services to help you maintain a smile you can be proud of, and every patient is treated with the personalized care they deserve. They also offer high-quality dental implant services and will always take the time to fully explain your treatment plan so you feel 100% confident in your decision. For more information, call (302) 444-8985 or visit their website.